This is the Blu-ray. And this is the DVD. Watch full and descend… into hours of special features!
Twin Peaks: A Limited Event Series (formerly known as The Third Season, formerly known as The Return) is currently being wrapped in plastic (well, sort of) and will be ready to hit the shelves on December 5, 2017. The UK will have it a day earlier, on December 4th.
Pre-order Twin Peaks: A Limited Event Series on Blu-ray ($64.99*) or DVD ($53.99*) on 

Amazon

or Amazon Canada.
Europe and beyond, pre-order Twin Peaks: A Limited Event Series on Blu-ray (£39.99/€45,19/$54.39*) or DVD  (£28.99/€32,79/$39.43*). Free shipping to most countries (even the U.S. is just $2.99) and first-time Zavvi customers get 10% OFF with code WELCOME.
*Both Amazon and Zavvi guarantee you'll pay the lowest price the product reaches between the moment you pre-order and the release date, so the sooner you pre-order, the better.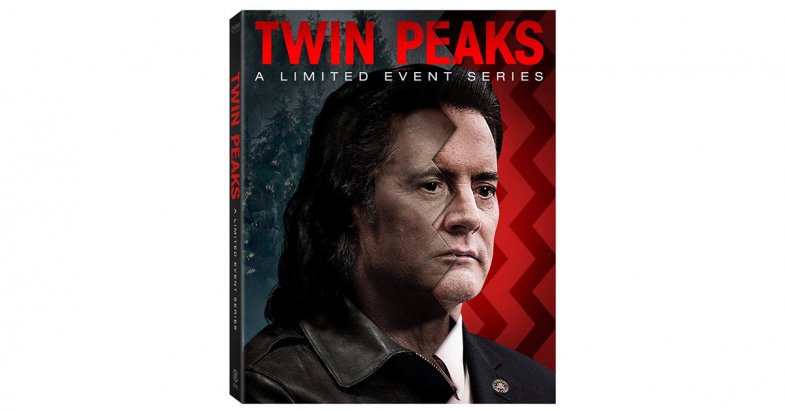 Both formats include 8 discs. The Blu-ray comes in a special slipcase packaging and is region free, which means it can be watched on Blu-ray players worldwide. The English audio on the 'episodes' is 5.1 Surround Dolby TrueHD, while bonus features will have 2.0 Dolby Digital AC3. Both the series and the special features have optional English subtitles.
Twin Peaks: A Limited Event Series
All 18 parts of Twin Peaks. Parts 1 and 2, and Parts 3 and 4 can be watched separately or conjoined as originally aired on Showtime on May 21st. And no, there's no single movie cut.
By the way, here's Amazon's attempt to summarize the 18 hours:
All 18 episodes from the third season of the US crime drama created by David Lynch and Mark Frost. Picking up 25 years after the end of the second season, the show follows FBI Special Agent Dale Cooper (Kyle MacLachlan)'s odyssey back to the town of Twin Peaks. After escaping the Black Lodge he mistakenly takes the place of his doppelgänger [sic] Dougie Jones, who lives in Las Vegas with his wife Janey-E (Naomi Watts) and son Sonny Jim (Pierce Gagnon) in a state of catatonia, while his evil doppelgänger is left to roam free on his violent crusade. Meanwhile, the Twin Peaks Sheriff Department and FBI Deputy Director Gordon Cole (David Lynch) and Agent Albert Rosenfield (Miguel Ferrer) continue their search for the real Special Agent Cooper. The cast also includes Sheryl Lee, Laura Dern, Michael Horse, Kimmy Robertson and Mädchen Amick.
Impressions: A Journey Behind the Scenes of Twin Peaks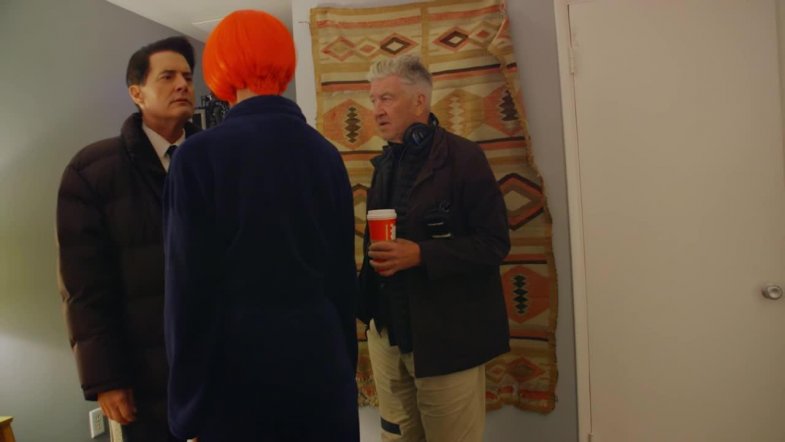 Ten short films with behind-the-scenes footage directed by Jason S. who was given unparalleled access to document the making of the series. Watch a preview clip here.
The Man with the Grey Elevated Hair (29:40)
Tell it Martin (29:08)
Two Blue Balls (24:14)
The Number of Completion (29:17)
Bad Binoculars (28:08)
See You on the Other Side Dear Friend (30:00)
Do Not Pick Up Hitchhikers (26:44)
A Bloody Finger in Your Mouth (26:49)
The Polish Accountant (28:05)
A Pot of Boiling Oil (38:32)
The SDCC panel with Kyle MacLachlan, Tim Roth, Dana Ashbrook, Kimmy Robertson, Matthew Lillard, Everett McGill, James Marshall, Don Murray and Naomi Watts, and moderated by Damon Lindelof. It will be preceded by David Lynch's personal video introduction.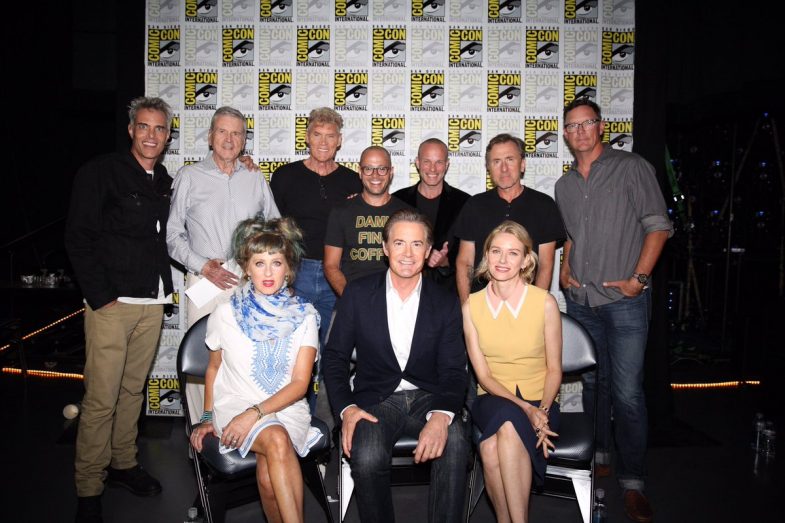 Part 1: Creation (4:40)
Part 2: Life After Death (4:50)
Part 3: Renaissance (4:50)
Behind-the-scenes Photo Gallery
Rancho Rosa Logos (2:25)
All 18 variations of the Rancho Rose Productions ident grouped together.
Behind the Red Curtain & I Had Bad Milk in Dehradun (Blu-ray exclusive)
Two featurettes (29:17 and 28:11) shot by Richard Beymer on the Red Room set.
A Very Lovely Dream: One Week in Twin Peaks (Blu-ray exclusive)
Directed by Charles de Lauzirika (producer of Between Two Worlds, A Slice of Lynch, Return to Twin Peaks & Secrets from Another Place: Creating Twin Peaks) on location in North Bend and Snoqualmie during the first few weeks of filming up in Washington state back in 2015. Runtime is 27 minutes and 9 seconds.
Pre-order Twin Peaks: A Limited Event Series on Blu-ray ($64.99) or DVD ($53.99) on 

Amazon

 today!
Meanwhile, the price of The Entire Mystery, the Blu-ray set which includes Season 1 & 2, Twin Peaks: Fire Walk With Me and The Missing Pieces, has been reduced to $26 over at The Hut (Europe) and $27 on Amazon.