We've waited for 25 years, and now there's just one more torturous week before Twin Peaks season 3 premieres on Showtime. Laura Palmer had a rough last seven days, so we really shouldn't complain, but the burning hunger for answers is sure to create much garmonbozia (pain and sorrow). Does the good Dale escape from the Black Lodge? Has the bad Dale been wrapping girls in plastic? How's Annie? When this kind of fire starts, it is very hard to put out. But while David Lynch has remained mum on details, co-creator Mark Frost has already given us a major clue in the form of a coded Easter egg.
Back in October, Mark Frost unleashed the intriguing novel "The Secret History of Twin Peaks" as an insight into the mythology and conspiracies tied to our favorite little town. Written in the form of a dossier, the novel is a collection of journal entries, testimonies, and case files all to be analyzed by the mysterious Special Agent Tamara Preston. Like many Twin Peaks fans, I digested the book in a matter of hours, combing the pages for any new information about the fate of Special Agent Dale Cooper. At first glance, there seemed to be almost no new information. But upon further inspection, a secret revelation on pages 236-237 almost knocked me out of my chair…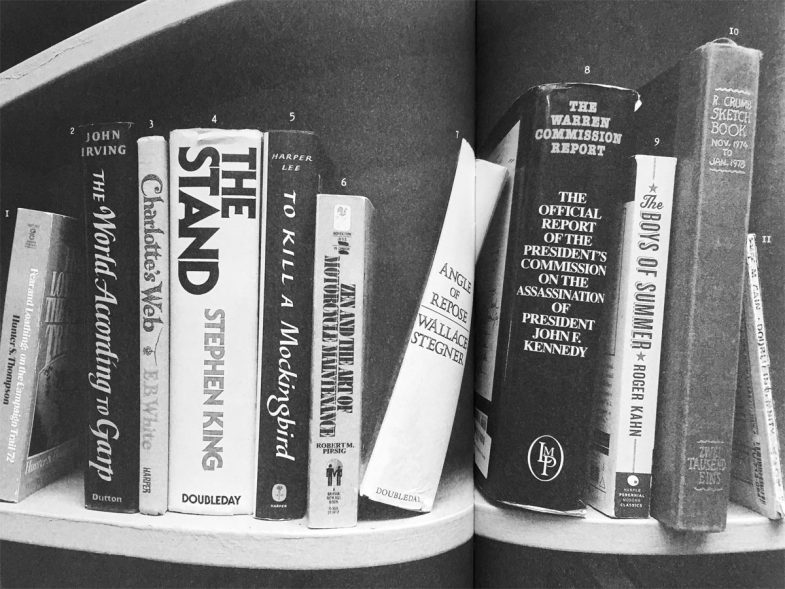 "A secret revelation on pages 236-237 almost knocked me out of my chair."
The two-page spread shows a picture of a "special shelf" at the Bookhouse library, with the favorite members' books on display. Each of the eleven books is labeled with a number, matching the book to its owner. There was something very strange about this picture. For one, why dedicate two whole pages to show off some books? Secondly, the use of numbers above the books felt like a classic cipher to a secret coded message. And finally, notes about the books included phrases like "Much can be learned in unexpected places" and "Good literature is a mirror through which we see ourselves more clearly." Alarm bells were going off…
So, I did what any good Bookhouse Boy would do; I held the picture up to a mirror. And looking back at me was the secret to the code, clear as day. I had been wondering why Mark Frost chose to use the Roman numeral "I" instead of the number "1" throughout the novel, and I finally had an answer why. When reflected in a mirror, the Roman numeral "I" reverses perfectly, while the number "1" does not. The only number that does reverse perfectly is "8." Therefore, book I, book 8, and book II all stand out from the other books, because only these three look uniform in the mirror. Now it was time to decode the message…
When using the first word of each book title, a frightening warning is revealed:
I. Fear and Loathing: on the Campaign Trail '72
8. The Warren Commission Report
II. Double Indemnity
"Fear The Double."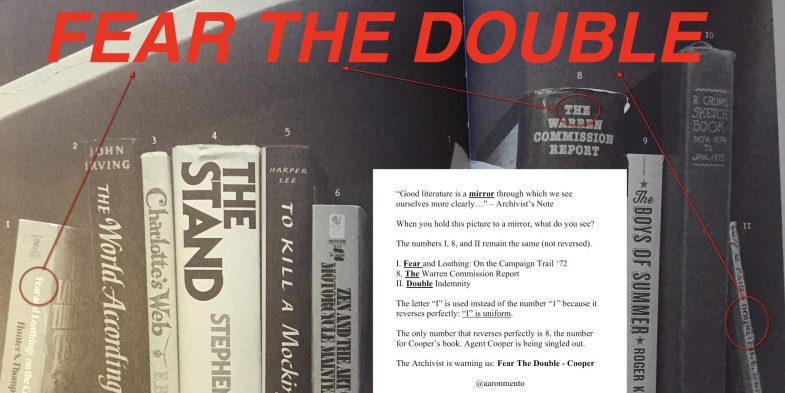 Whoa. Talk about some serious goosebumps. Major Briggs is the archivist of the dossier (as the novel reveals), and I believe that he coded this message to warn Special Agent Tamara Preston about the evil "double" Cooper. Maybe Preston will notice that Cooper is always avoiding his "double" in mirrors (to hide Bob)? Perhaps Preston will dream of Cooper trapped in the Lodge, and realize that the other Cooper is an evil doppelganger? Since book 8 (the only symmetrical regular number) belongs to Cooper, maybe the full warning is even clearer:
"Fear the Double – Cooper."
Whatever the future holds, this dossier is much more than it seems (wait, so does Annie not even exist anymore?!) and more revelations are surely hidden within its pages. It is happening again. The owls are not what they seem. Fear the double. But we don't have to fear that devastating cliffhanger anymore because we're all going back to Twin Peaks this Sunday.
Mark Frost's follow-up novel Twin Peaks: The Final Dossier will be out on Halloween 2017. You can pre-order it today.
https://www.facebook.com/welcometotwinpeaks/posts/1330239890330446