Twin Peaks has a history of electrifying interrogation scenes. Think of the one with the One-Armed Man deprived of his chemicals or Leland Palmer's final scene. Gordon Cole's confrontation with "Cooper" locked up in South Dakota towards the end of Twin Peaks Part 4 is arguably the most startling one to date. After the meeting, Gordon Cole tells Albert Rosenfield, "I don't think he greeted me properly, if you take my meaning. Something is very wrong."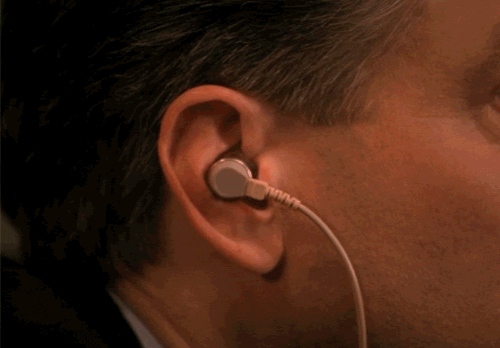 Maybe the FBI Deputy Director is talking about the total absence of their usual snap-and-point greeting, but there's definitely something else going on. First off, note that the conversation is loaded with duplication and mirroring. It starts and ends with Mr. C's thumbs up, mirrored by Cole at the end. And several times, Cole basically repeats the captive's words and vice versa.
Mr. C: "It's yrev, very good to see you again, old friend."

Gordon Cole: "It's very, very good to see YOU again, old friend."

Mr. C: "Gordon, I really, really missed spending time together."

Gordon Cole: "Yes, Coop. I too have missed our good times together."
Mr. C, using a lower-than-usual voice, even repeats himself at a certain point, which could be the result of a head injury from the car crash. But the biggest clue that something is "very" wrong is well-hidden right at the beginning of the interrogation. As Reddit user Sully620 first pointed out, Mr. C's greeting contains a mirrored word; he doesn't actually say, "very, very good," but "yrev, very good."
By (accidentally?) pronouncing the word "very" backwards, he exposes himself as a doppelgänger from the Black Lodge. Gordon Cole, Albert Rosenfield and Tammy Preston however, are not yet aware of this strange way of speaking, but it seems like at least Cole picked up on it.
This video courtesy of Weird Cinema confirms the observation.
Have you spotted Easter Eggs like this, or come up with an elaborate theory? Please share or send an e-mail.