Oops! No results, try changing your search!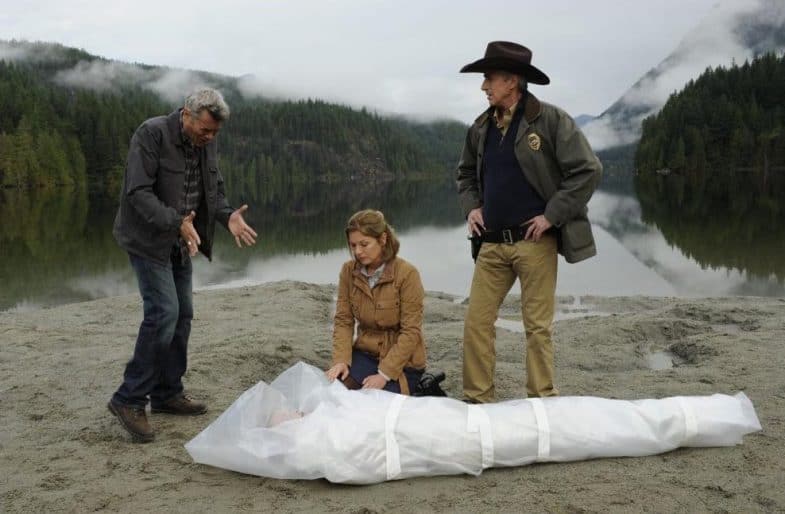 Last December, Psych paid tribute to Twin Peaks in an episode called "Dual Spires." An extra 7-minute extended version of this homage episode (season 5, episode 12) is now included in the Psych: The Complete Fifth Season
DVD set. It also features audio commentary by creator Steve Franks, executive producer Kelly Kulchak, writers James Roday and Bill Callahan, as well as Dulé Hill and Timothy Omundson. In addition, there's a featurette called The making of Dual Spires, which shows behind the scenes footage of cast and crew "as they shoot the guest star-studded episode".
» Find Psych: The Complete Fifth Season
on Amazon or check out the eBay items at the bottom of this post.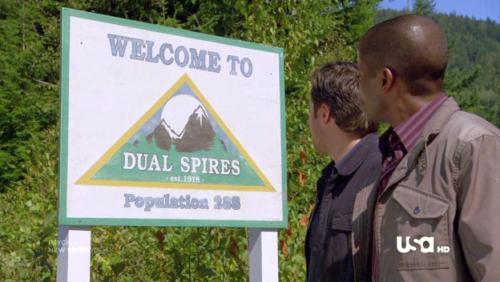 From Wikipedia:
According to trivia on the "Dual Spires enhanced" video at the Psych website, a Twin Peaks tribute episode had been in the works since season one. Maggie Lawson was the one who suggested the episode's title, a play on that of the original series. The episode aired 20 years to the day after the 17th episode of Twin Peaks, which answered the question of who killed Laura Palmer, after which, Mike Hale of The New York Times wrote, "there was really no reason to keep watching." The episode features seven Twin Peaks cast members as guest stars. (…) Michael Ontkean, who played Sheriff Harry S. Truman, and Mädchen Amick, who played diner waitress Shelly Johnson, were also approached to appear in the episode. Twin Peaks co-creator David Lynch was originally going to guest star in a speaking role as Mayor Douglas Fir, but Lynch was not asked due to Roday's concern over what Lynch would think of the episode.

Twin Peaks references in Psych: Dual Spires
Here's a list of the Twin Peaks references I spotted while watching Dual Spires.  Feel free to append to this list in the comments:
Silent window shades invented by some woman in Washington in the early 90s
A chocolate bunny on Shawn's desk
The Great Northern newspaper
The Sawmill Diner
"Damn hot cider"
The Peakish extras in the diner
Cinnamon, not cherry pie
Sheriff Andrew Jackson (played by Lenny Von Dohlen), named after a president like Harry S. Truman
The D.S. high school jackets
The Barkers vs. The Palmers
Bob (= Dana Ashbrook aka Bobby) & Shelly (= Robyn Lively aka Lana)
"Barker" because Bobby Briggs barks in the pilot episode of Twin Peaks
Paula Merral (an anagram of Laura Palmer), wrapped in plastic
Gus is crying like Andy
Sheryl Lee (Laura Palmer) is Dr. Donna Gooden (Dr. Hayward & Donna in one)
My partner, Lodge Blackman (Black Lodge)
Native American policeman like Hawk
Deputy Frost, named after Mark Frost
Julee Cruise singing a Badalmenti-version of the theme song: "I Know You Know"
The white horse in the opening sequence
The Welcome To Dual Spires sign
Gus behind the curtain, looking like Killer Bob
The old mayor
Douglas Fir band
Leo, the cinnamon owl
The earring as evidence (vs. the necklace)
Catherine E. Coulson as The Log Lady (or Wood Woman)
Chris Isaak's "Baby Did A Bad Bad Thing"
A fest, just like the fan fest?
Ceiling fans!
Randy playing darts looked a lot like the rock throwing
Randy doing a Lelandish grin
Maudette Hornsby is Sherilyn Fenn!
Maudette Hornsby, drinking cherry coke (no stems) and having a cherry tattoo
Earl wyndam
A book about golf (Leland played golf)
A book about "Reincarnation and Rebirth" probably referring to Sheryl Lee's return as Laura's cousin, Maddy
Spying through the library rack like Windom Earle
Cherry pie!
Señor Droolcup making hand signs in the diner
The FBI visits the town
The prom picture.
A moose head on the table
Paula's very girly bedroom
A diary!
Meeting with J
Father Wesley played by Ray Wise!
Shawn having a vision
Maudette Hornsby's Audrey-like "new" shoes
Betty Boop Night at… The Roadhouse
"I like to dance all night long" vs. "There's always music in the air"
Maudette Hornsby doesn't really like Paula
Jack with Paula out in the woods…
Jack Smith (kind of a weirdo, like Harold Smith) takes "from-the-hip" photos like the ones of Laura with Waldo
Soap opera comparisons à la Invitation To Love
Randy is sawing wood, reminiscent of the Packard Mill footage in the intro
"You remind me of Paula…"
Father Wesley has white hair!
Arson in the library (not the mill)
A wood cabin with red curtains, like Jacques'
Sawmill fire in 1958
An owl cave ring
Jack with an eye patch like Nadine, making him One-Eyed Jack
Jack ancing like the Little Man From Another Place and snapping fingers
The diner's jukebox
Heavenly pie
Someone banging his head on the counter like Johnny Horne.
Bob walking backwards, which is how Lynch recorded the Black Lodge scenes
Lana is dancing like Audrey Horne
Randy is barking like Bobby
Carlton Lassiter shouting "Damn fine cup of cider" with a raised hand, like Cooper (and Lynch)
Later, Carlton Lassiter is holding his cup sideways and nothing pours out
The giant orders THREE cinnamon pies.
Someone in the back is doing a dance like the guy in the high school hallway
Bob is holding a picture frame and spinning around
Julee Cruise singing the outro
Here's a video of writers James Roday and Bill Callahan talking about the episode. There was also a Psych/Twin Peaks gathering at the Paley Center, around the time the episode first aired:
Julee Cruise's version of the Psych theme song:
A few individual interviews with the cast members:
Behind the scenes video of "Dual Spires":
https://www.youtube.com/watch?v=xailAbIzzCU
And stay tuned for a possible sequel…