David Lynch's Festival of Disruption returns to the Theatre at the Ace Hotel in Los Angeles for its second edition on October 14 and 15, 2017!
The currently confirmed line-up includes Bon Iver, TV On The Radio, Sharon Van Etten*, The Kills, Laura Marling, DJ's Moby* and Shepard Fairey, and comedian Reggie Watts. Kristine McKenna, co-author of David Lynch's upcoming autobiography, will host talks with actors Sheryl Lee* and Bill Pullman, editor Duwayne Dunham*, casting director Johanna Ray*, special effects supervisor Gary D'Amico*, pop artist Ed Ruscha, comedian Pete Holmes and David Lynch's longtime sound engineer, Dean Hurley*. There will also be screenings of Lost Highway, rare David Lynch shorts, Los Angeles Plays Itself, and Don't Look At Me, exhibits by William Eggleston and David Lynch, and meditation sessions with Bob Roth and Brian Eno.
*Worked on the new Twin Peaks.
UPDATE: David Lynch has joined the lineup of his own festival. He'll join journalist Kristine McKenna on stage for a conversation about his life and work. Also added are Twin Peaks cinematographer Peter Deming and executive producer Sabrina S. Sutherland.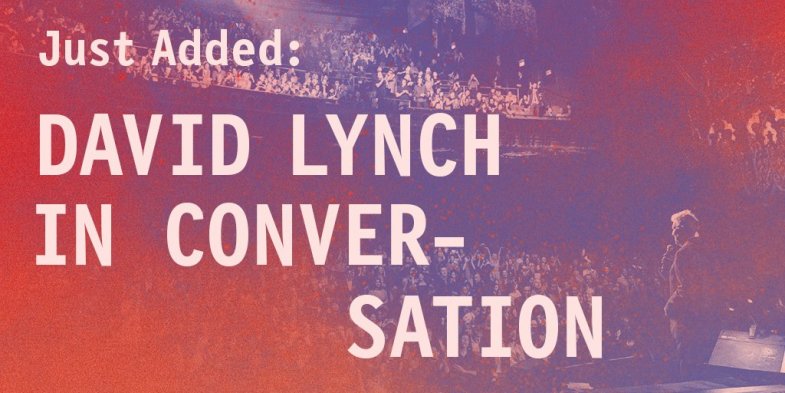 Tickets will go on sale on Friday, June 2, at noon EST, with net proceeds benefitting the David Lynch Foundation.
$249 – General Admission (Balcony) – Two Day Pass
General Admission seating for all theatre events on a first-come, first-served basis
$489 – Director's Circle – Two Day Pass
Reserved seating for all Theatre events
$999 – Festival of Disruption Donor – Two Day Pass
Prime reserved seating plus an invitation to an intimate cocktail party reception with David Lynch on the evening of Friday, October 13.