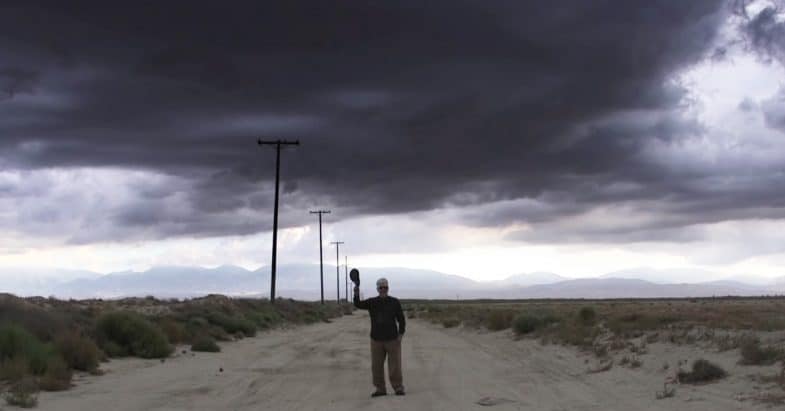 On November 4th 2015, the David Lynch Foundation held its annual Change Begins Within benefit concert at New York's Carnegie Hall. Founder David Lynch himself couldn't attend this year's star-studded night with performances by Sting, Jerry Seinfeld, Katy Perry and many other artists, because, as DLF executive director Bob Roth explained to the audience, he was doing what any great filmmaker would do: "he's working… on Twin Peaks!" But David Lynch made up for his absence by recording a short thank you message in between takes under ominous desert clouds, which Bob Roth introduced as follows at the end of the concert:
David Lynch is an iconic and Lynchian filmmaker. He just sent a 50-second message from on location, somewhere in the Northwest. So… David Lynch!
https://www.youtube.com/watch?v=9LyyHNsW0eE
I really wish I could be with you all tonight. I want to thank all the artists that performed and I want to thank all of you for your support of the David Lynch Foundation. Transcendental Meditation is life-transforming for the good. It works if you're a human being. Every human being has a treasury within and Transcendental Meditation gets you there, easily and effortlessly. And it changes life for the good. It's change from within. Help get this beautiful blessing of a technique to the people. Thank you very much. Have a great night!
Keeping the mystery alive, the video reveals no clues about the new series except that, at least for this scene, we're definitely not in Twin Peaks anymore. Here's how David Lynch's video was actually presented, divided into a triptych on the stage of Carnegie Hall.
David Lynch recorded a thank you video on location of #TwinPeaks for @LynchFoundation's #ChangeBeginsWithin tonight. pic.twitter.com/iYJPrmX7Zm

— Welcome to Twin Peaks (@ThatsOurWaldo) November 5, 2015
Hat tip to Vice for uploading the video.