After years of debunked rumors, the Giant and Ray Wise were right after all: it is happening again.
And unlike the owls, last Friday's mysterious Twin Tweets were exactly what they seemed.
YES, TWIN PEAKS IS GOING TO COME BACK IN STYLE!
Approximately 25 years later, David Lynch and Mark Frost will be revisiting the wonderful and strange town of Twin Peaks. And we'll be able to witness the fruits of that trip, as rumored earlier, on premium cable network Showtime. But we'll have to be more patient than Dale Cooper ordering room service, because the brand new show is set to premiere in 2016 which is 25 years after the final "How's Annie?" cliffhanger episode aired. UPDATE: Showtime will schedule the entire 1990-1991 series in the months leading up the big premiere.
UPDATE: Since this news broke, Mark Frost has said in one interview that he expects the show to return in 2017 instead of 2016.
"The mysterious and special world of Twin Peaks is pulling us back. We're very excited. May the forest be with you."
—David Lynch and Mark Frost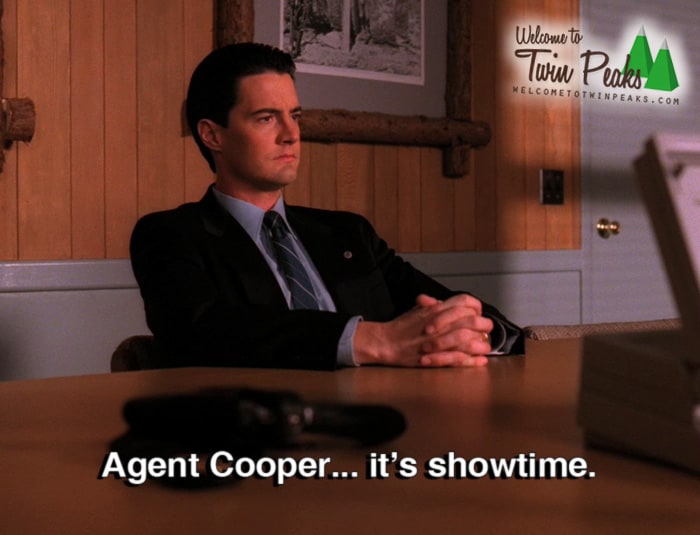 Details are still rolling in like two-by-fours at the Packard Mill, but David Lynch and Mark Frost will start shooting a new, 9-episode series in 2015. Set in present day Twin Peaks, they're trying to bring back as much of the original cast as possible with Kyle MacLachlan definitely on board reprising his role as Special Agent Dale Cooper. Composer Angelo Badalamenti and Emmy Award-winning editor Duwayne Dunham will likely be involved as well.
UPDATE: Here's Kyle MacLachlan semi-confirming his casting. Read some other first reactions from the original Twin Peaks cast here.
Better fire up that percolator and find my black suit 🙂 #Twinpeaks

— Kyle MacLachlan (@Kyle_MacLachlan) October 6, 2014
The timing for a revival couldn't be better. If you've been reading Welcome to Twin Peaks for the past four years, it should be obvious that both fan and mainstream interest in Twin Peaks is at an all-time… peak. Sure, "that gum" we like has never really gone out of style, but it sure is in high demand right now. And not just because of the release of the Twin Peaks Blu-ray.
For those concerned that new episodes will look like David Lynch's latest film Inland Empire without the warm tones and grain of the original series, the director proclaimed his love for film again at the Lucca Film Festival last week. A sentiment which, by the way, overwhelmed him while working on The Missing Pieces from Fire Walk with Me:
"For a long time I championed digital. I fell in love with digital in building a website, and that carried into Inland Empire. And recently, I was working on the deleted scenes from Twin Peaks. For the first time in a long time I saw images shot on film. And I was overwhelmed by the depth and the beauty that celluloid and film can give. It has such a depth and such a beauty."
I can't believe I'm even typing all this and I'm expecting my hair to turn white any minute. But this is going to be a great ride, everyone! And Welcome to Twin Peaks will be here for you to cover it all. If you haven't done so, please follow @ThatsOurWaldo on Twitter and Welcome to Twin Peaks on Facebook.
Let's rock!
Join the Facebook event below to stay in the loop and discuss the upcoming Twin Peaks revival!
Dear Twitter Friends… it is happening again. http://t.co/r0l9rhK4eB #damngoodcoffee

— David Lynch (@DAVID_LYNCH) October 6, 2014
Dear Twitter Friends… it is happening again. http://t.co/Eht08wKx1J #damngoodcoffee

— Mark Frost (@mfrost11) October 6, 2014