"When two separate events occur simultaneously pertaining to the same object of inquiry we must always pay strict attention!"
—Special Agent Dale Cooper
UPDATE (10/5/2014): Is Twin Peaks coming to Showtime?
UPDATE (10/6/2014): Damn right, it is! Twin Peaks is coming back!
On October 3rd 2014 at 11:30 AM (EST), this happened on Twitter: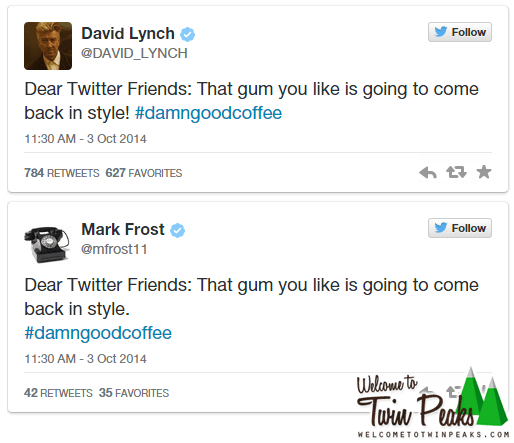 Dear Twitter Friends: That gum you like is going to come back in style. #damngoodcoffee
Yes, those are "Twin Tweets" by David Lynch and Mark Frost. Published at 11:30 AM, which is the same time Dale Cooper enters the town of Twin Peaks for the very first time (hat tip to James B. for noticing).
OH MY BOB!
The Entire Mystery Blu-ray release happened just a few months ago, so that's not what they're tweeting about today. Now with David Lynch recently hinting at a return to Twin Peaks ("Just wait and see!" ) and rekindling with Everett "Big Ed" McGill, could a revival finally be fact instead of rumor?
Let's reprise what Ray Wise said earlier this year about returning to Twin Peaks 25 years later:
They wouldn't remake it. If anything was done, it would be 25 years later. It would never be a remake of anything we already did. Maybe you just didn't mean to use that word, I don't know. A remake, no, but it would be something new and fresh. David always said the town of "Twin Peaks" is still there; it's still going on whether we watch it or not. So, who knows what'll happen in the future? It would be 25 years later, not anything remade. Does that answer your question?
UPDATE (8:18 PM): In a Facebook comment to Reflections author Brad Dukes, Twin Peaks co-producer and writer Harley Peyton said "you will not get let down again" regarding today's big news and the long history of debunked revival rumors.
Are we going to see a third season (on Netflix perhaps?) or will there be a sequel (or another prequel) to the Twin Peaks movie? What are your thoughts?
Here's David Lynch answering a "tricky" question about a Twin Peaks continuation just a few days ago at the Lucca Film Festival.
http://instagram.com/p/tjm7HmmmW_
BONUS: Have David Lynch and Twin Peaks lead Kyle MacLachlan been snacking on some local mushrooms lately?
"Hanging with my friend David Lynch… damn good hair!"
—Kyle MacLachlan (September 2014). pic.twitter.com/REp9KkJi5e

— Welcome to Twin Peaks (@ThatsOurWaldo) September 17, 2014
And here are their original tweets:
Dear Twitter Friends: That gum you like is going to come back in style.#damngoodcoffee

— Mark Frost (@mfrost11) October 3, 2014
Dear Twitter Friends: That gum you like is going to come back in style! #damngoodcoffee

— David Lynch (@DAVID_LYNCH) October 3, 2014