Sorry Netflix, but the continuation of Twin Peaks could very well be heading to cable network Showtime soon. Showtime is the home of shows such as Dexter, Californication, Homeland, Shameless, Weeds and House of Lies.
After Friday's mystery "Twin Tweets" from David Lynch and Mark Frost that seem to imply the return of Twin Peaks in some form or another, it turns out that Mark Frost's most recent follow on Twitter is Showtime's head of PR, Trisha Cardoso. And she follows him back. And David Lynch.
UPDATE: For what it's worth, Trisha and Mark just unfollowed each other 😉
Now, remember the Twin Peaks creators' tweets were published simultaneously at 11:30 AM EST. As pointed out, that's the exact same time Dale Cooper enters Twin Peaks for the very first time, although that would be Pacific (Northwest) Time. EST suggests an NY connection, and guess where Showtime (and their marketing team) is located? Yes, on Broadway in New York City.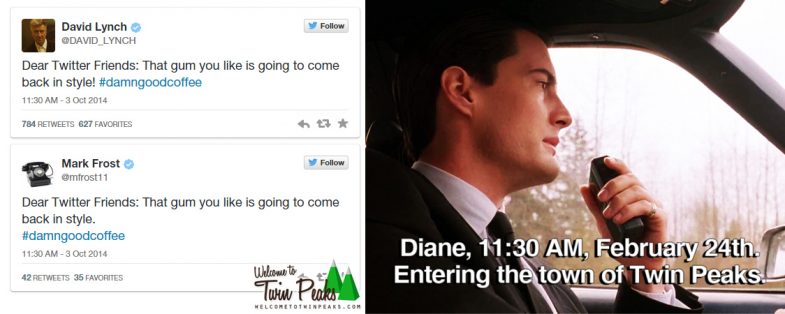 Need a stronger argument? Showtime Networks is the subsidiary of CBS Corporation, of which the CBS Home Entertainment division released the Twin Peaks Blu-ray last summer.
This is still a rumor, and the only thing we know for a fact is that Mark Frost and David Lynch are brewing #damngoodcoffee. But the big reveal is upon us, so stay tuned!
Hat tip and multiple finger snaps to Brad D. for going Deputy Hawk on this!