An overview of 2013's Twin Peaks themed Halloween parties worldwide.
Feel free to let me know if I missed an event and, as always, please do share photos and videos of your own Twin Peaks inspired costumes, pumpkins and decorations.
a place both wonderful and strange presents: Halloween In The Black Lodge (Brooklyn, NY)
Brooklyn's premier purveyor of Lynch-smeared dark electronic pop music, a place both wonderful and strange invites you to spend a Halloween night in the Black Lodge. Come dressed to impress as your favorite Twin Peaks character for the chance to win fabulous prizes courtesy of Welcome To Twin Peaks. Do the Leland Palmer to twisted, fun DJ sets all night long. Guzzle down coffee and donuts to your hearts content. Let your senses be overwhelmed by the myriad surprises that await you within the walls of Glasslands. Wash your hands before dinner.  And, whatever you do… Beware of Bob!
Date: Friday, October 25th 2013
Address: Glasslands Gallery, 289 Kent Ave., Brooklyn, NY 11249, USA
More information: Facebook
The Pink Room presents Twin Peaks: Fire Walk With Me Burlesque (New York, NY)
The Pink Room: David Lynch Burlesque season kicks off with Fire Walk With Me Burlesque! One of The Pink Room's most popular shows is being revisited on the EVE of Hallow's Eve so get your best Log Lady or Agent Cooper costume out! This show has everything you want from Twin Peaks Burlesque but it is R-RATED! This prequel to David Lynch's most popular television show, Twin Peaks, was booed at the Cannes Film festival in 1992 but went on to become a cult hit. Don't miss this twisted and beautiful tribute to Laura Palmer – it will have everything from "Lil, my mother's sister's girl" to creamed corn and The Pink Room's usual dose of "garmonbozia".
Date: Wednesday, October 30th 2013
Address: Parkside Lounge, 317 E Houston St New York, NY 10002, USA
More information: Facebook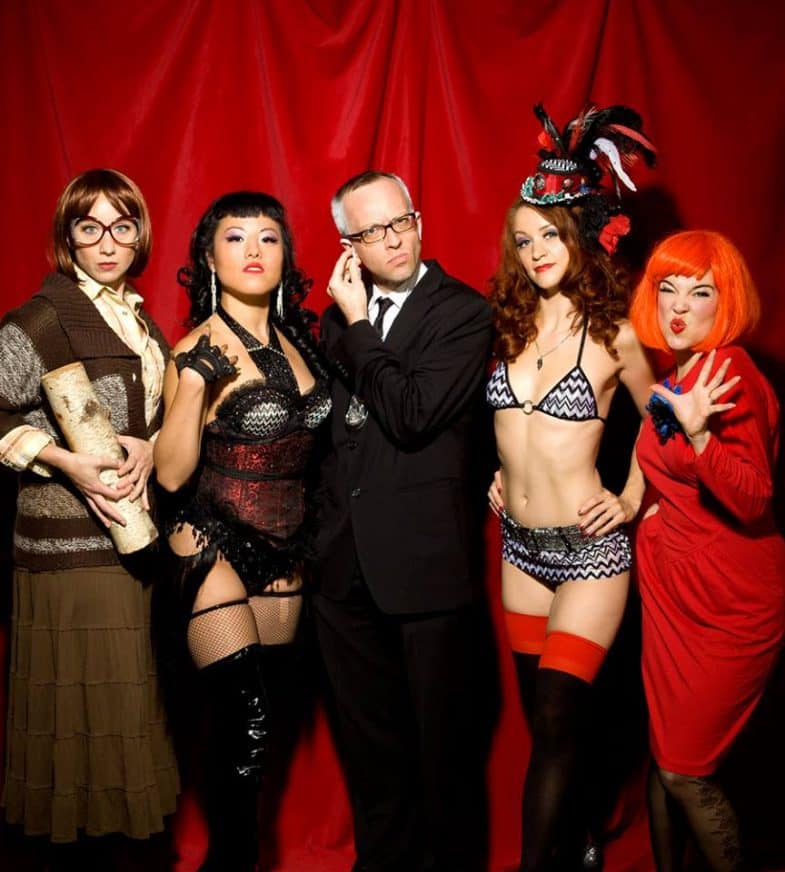 A Twin Peaks Halloween at The Holy Oak (Toronto, Canada)
The Sandy Pockets play from the Twin Peaks song book. But beware: your arms will bend backwards. You'll wish you spoke a little French. And that gum you like will come back in style. PWYC ($5-$10 suggested donation). Prizes for best Log Lady costume!! Sets at 9:15 and 11:00.
Date: Thursday, October 31st 2013
Address: The Holy Oak, 1241 Bloor St W  Toronto, ON M6H 1N6, Canada
More information: Facebook
Fire Walk With Me at The Wee Red Bar (Edinburgh, UK)
The Wee Red Bar is completely transformed for one night only, as it hosts 'FIRE WALK WITH ME'; a Twin Peaks themed Halloween party. Bespoke visualizations and lighting, along with custom-made decor, will split the Wee Red in two. One half taking the form of the Black Lodge, the other the infamous Roadhouse Bar. Each side will have a unique feel, recreating both the intensely eerie as well as the fun and surreal atmosphere of David Lynch's cult TV series. The soundtrack for the night is provided by the Wax On! DJs. Playing an eclectic mix of music, peppered with set pieces, vocal samples and scores from the series at certain points in the night. To boot, there will also be prizes for costume ingenuity (they don't have to be from the Twin Peaks series either).
Date: Thursday, October 31st 2013
Address: The Wee Red Bar, Edinburgh College Of Art, 74 Lauriston Place, EH3 9DF Edinburgh, United Kingdom
More information: Facebook
Gran Fiesta De Halloween: David Lynch Tribute at Asilo (Bogotá, Colombia)
A PROPÓSITO DE LA NOCHE DE BRUJAS, HALLOWEEN, DISFRACES, DE MUERTOS, ESPANTOS, TRUCO O TRATO, CALABAZAS Y ANTIFACES; PREPARAMOS LA MEJOR FIESTA HALLOWEEN CINEMATOGRÁFICA ALREDEDOR DE UNO DE LOS MEJORES DIRECTORES DEL MUNDO Y QUERIDO POR TODO NOSOTROS: DAVID LYNCH.
Date: Friday, November 1st 2013
Address: Asilo Bar, Av. Caracas # 40-43, Bogotá, Colombia
More information: Facebook