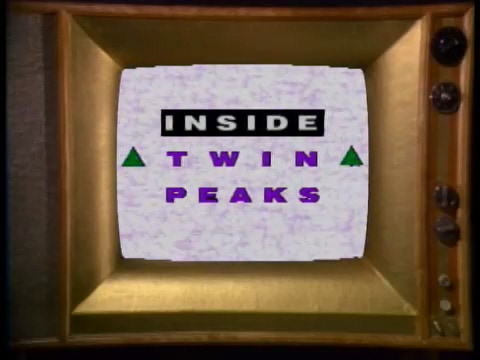 Episode 9, the second one of Twin Peaks's second season, aired on October 6, 1990. Later titled "Coma", it's the David Lynch-directed episode with Donna Hayward meeting the Tremonds, the much debated "Just You" intermezzo with James Hurley, Maddy Ferguson and Donna, and the subsequent terrifying BOB appearance in the Hayward's living room. Right after the ABC broadcast, Twin Cities Public Television aired Inside Twin Peaks, a one-hour documentary "live from Los Angeles and the Twin Cities" about the show and its fans. Special guests were Judith Guest, Nancy Robinson, Noel Holsten, Dudley Riggs and Howard Rosenberg, but the main treat is the interview with Mark Frost throughout the show. Thanks to TPT, you can now watch their 24-year-old television program again and relive some of the '90s Twin Peaks hype.
Inside Twin Peaks with Mark Frost (10/06/1990)
Get the inside scoop from co-creator Mark Frost. Hear what keeps people coming back to the show and what this means for the future of television.
The Best of "Inside Twin Peaks"
Too long, didn't watch (yet)? Here are some of the doc's most interesting and glorious moments.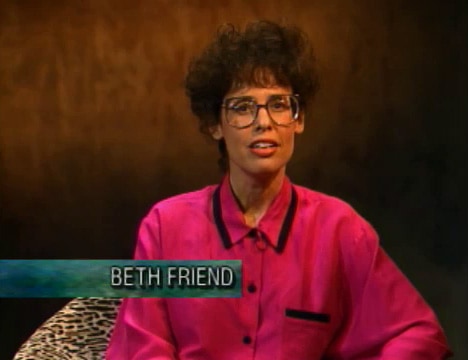 The show's host, Beth Friend, could have been the hip, younger sister of the Log Lady. Right?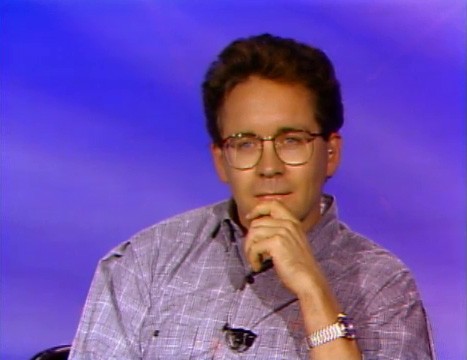 The ever cool Mark Frost describes the genesis of the show, meeting David Lynch for the first time and the process of co-writing.
"Upon meeting [David Lynch], I kind of felt like Huck Finn meeting Tom Sawyer. We looked at each other and there was a twinkle in his eye that I recognized and I thought, this might lead to something."
—Mark Frost
"The original title for the show was North Dakota. Long before we moved into the Pacific Northwest, we were playing around with this idea of the plains and a place far away from the world. But what we really lacked was that sense of mystery in the forest and the darkness that moving a little further west had."
—Mark Frost
"When we work at my office at home, David [Lynch] gets to stretch out on a nice, little comfortable chase lounge and I sit there and do all the typing. But he literally can't type his name, so it's a practical arrangement as much as anything else. It's really where everything sort of starts."
—Mark Frost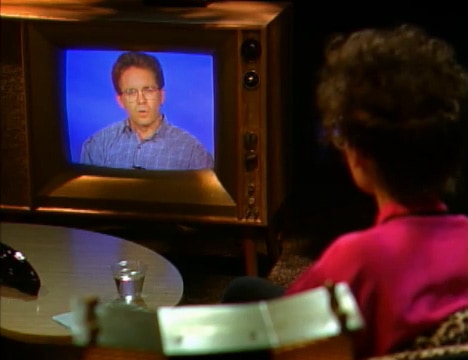 "It's a little like ping-pong. Somebody throws out an idea and the other person bats it back at you with some sort of spin on it or they knock it out of the room if it stinks and you just hammer things out that way. When we write together, we tend to get everything we want on the first pass so every sentence, even stage directions are very well considered. And we'll usually end up cranking about 5 to 6 pages a day. That's about our maximum."
—Mark Frost
"I had never written with a partner before and neither had David. And what you quickly realize is that it's quite a bit like a marriage: you gotta have a formula for compromise that will get you out of those corners that you sometimes paint yourself into. And I think we managed to do that fairly well."
—Mark Frost
"I had a few doubts about the midget, initially. I wanted to know a little bit more about who he was and where he came from… and why he was dancing. But once we reasoned that out together… It's like being at the U.N.: you first decide on the shape of the table and then you can decide on the particulars. And if all else fails, David will go get a cup of coffee. And I don't keep doughnuts around the house but you can always send out for one."
—Mark Frost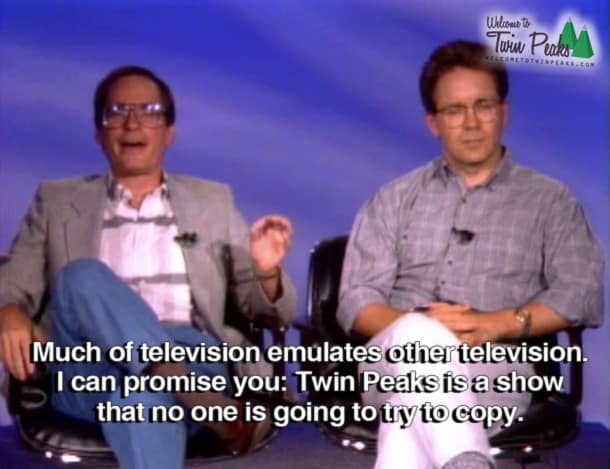 Finally, and no disrespect to Pulitzer Prize-winning TV critic for the Los Angeles Times, Howard Rosenberg, but I was amused with how wrong he was when he claimed: "Much of television emulates other television. I can promise you: Twin Peaks is a show that no one is going to try to copy." The look on Mark Frost's face, sitting next to the critic during this statement, is kind of priceless.