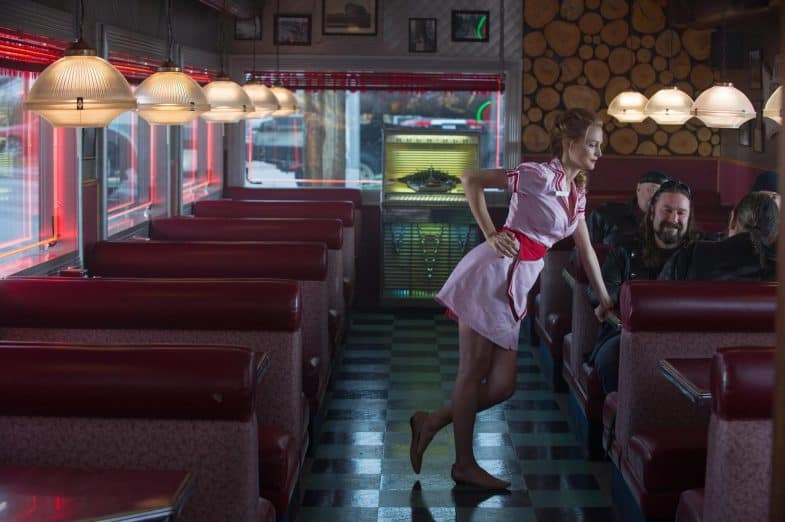 It's a pink one this time, not Double R Diner blue, but actress Heather Graham still looks dazzling in a waitress dress of any color.
Two decades after she played Dale Cooper's love interest, Annie Blackburn, in Twin Peaks, she's serving coffee and pie again as "Veronica" in the movie adaptation of Joe Hill's Horns (Amazon) starring Daniel Radcliffe and Juno Temple. And when I say "pie", I really mean one of Coop's favorites. A little over 54 minutes into the movie, she asks a few bikers (!) the following off-camera:
So do you guys want dessert? Can I get you dessert or anything? [Pause] I've got a cherry pie!
http://instagram.com/p/uGiH7SGmeC/?modal=true
No idea whether this line was scripted, improvised by Heather Graham, a last minute Easter Egg dropped by director Alexandre Aja or maybe a suggestion from the movie's cinematographer Frederick Elmes, who worked with David Lynch on Eraserhead, Blue Velvet and Wild at Heart. We do know writer Joe Hill is a big Twin Peaks fan, just like his father Stephen King. And, like Joe says, aren't we all?
You can stream Horns on Amazon Instant.
But really aren't we all Twin Peaks fans? http://t.co/zuc7m9kfWH #HORNSmovie

— Joe Hilloween (@joe_hill) October 7, 2014
Holy shit, America! TWIN PEAKS is coming back next year, to Showtime! Agent Dale Cooper will drink more coffee!

— Stephen King (@StephenKing) October 6, 2014