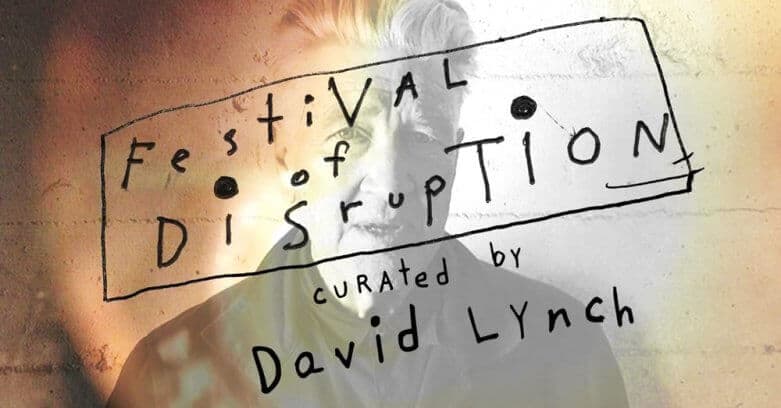 I've invited some of my favorite artists to participate in my first-ever Festival of Disruption on Oct 8/9 in L.A.  It'll be a weekend of music, film, VR experiences, talks, dance & more. All proceeds benefit the David Lynch Foundation, whose work helps veterans with PTSD, survivors of domestic violence & others.
—David Lynch
UPDATE: The full line-up, which includes several noteworthy additions, has been added below.
With Festival of Disruption, David Lynch is not just curating his own official festival. He's creating a mysterious and beautiful world filled with music, art, films and more for us to explore during two full October days and nights. From the dark recesses of The Theatre to the expansive light of the rooftop, the entire Ace Hotel in Los Angeles will be transformed.
The lineup, as you'd expect, is every David Lynch fan's dream: the legendary Angelo Badalamenti will be performing the music of Twin Peaks along with Xiu Xiu and Sky Ferreira, there will be screenings of The Elephant Man, rare David Lynch shorts and the new Blue Velvet Revisited documentary, and Kyle MacLachlan and Laura Dern are set to give a talk about their work with the director, which also includes the new series of Twin Peaks. Check out the trailer for the festival's full roster of hand-picked artists, performers, DJ's, and other intriguing special guests.
David Lynch's Festival of Disruption
Two-day passes start at $199 (excluding fees), while a $349 Director's Circle pass gets you guaranteed front orchestra seats and a special gift. Tickets go on sale over here on Friday, June 24, 2016 at 10:00AM PDT.
I guess only one question remains: will they be serving Heineken… or PABST BLUE RIBBON?
For more details, see festivalofdisruption.com!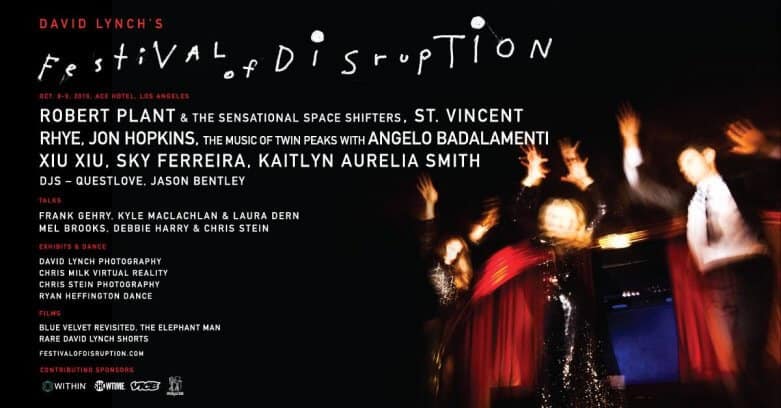 Performances
Robert Plant & The Sensational Space Shifters, St. Vincent, Rhye, Jon Hopkins, The Music of Twin Peaks with Angelo Badalamenti, XIU XIU & Sky Ferreira, Kaitlyn Aurelia Smith, Rebekah Del Rio, Chrysta Bell
DJs
Questlove (The Roots), Jason Bentley (KCRW)
Talks
Frank Gehry, Kyle Maclachlan & Laura Dern, Mel Brooks, Debbie Harry & Chris Stein, John Malkovich & Sando
Exhibits & Dance
David Lynch Photography, Chris Milk Virtual Reality, Chris Stein Photography, Ryan Heffington Dance
Films
Blue Velvet Revisited, The Elephant Man, Rare David Lynch Short Films, Psychogenic Fugue
(New additions in bold)
Festival of Disruption: Official Schedule
(Click to enlarge and then expand to full screen)