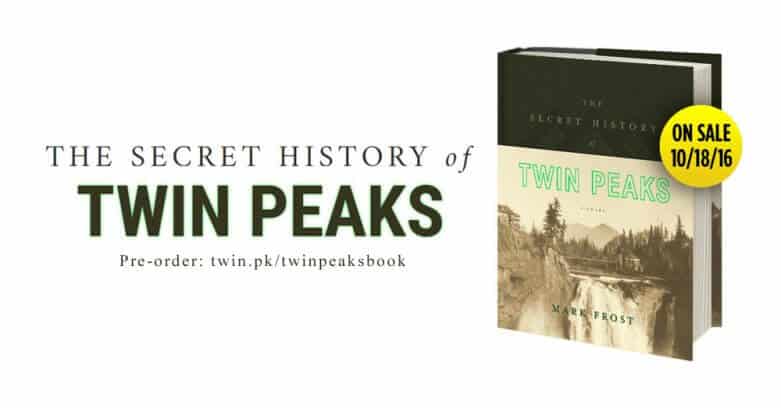 Mark Frost's The Secret History of Twin Peaks is being promoted as "the story millions of fans have been waiting for to get their hands on for 25 long years," but so far we've been kept pretty much in the dark on what his novel is actually about. Even the author himself recently read a short yet touching fragment without giving much away. But thanks to an abstract published by the book's French publisher, Michel Lafon, we finally get some highly desired context.
SPOILER ALERT: This summary includes a potential spoiler for the new series regarding Dale Cooper!
"Twenty-five years [after Dale Cooper's investigation of the murder of Laura Palmer,] the FBI gets a hold of a box it won't divulge the provenance of. In the box, a huge dossier…
A female FBI agent is tasked to analyze all the documents inside, and everything related to the strange town of Twin Peaks. She also has to determine the identity of the person who compiled the dossier. Along the way, she discovers secrets about the lives of the town's residents, but also investigative reports from Dale Cooper who has since vanished, newspaper clippings, an autopsy report, and other classified information.
What happened since the death of the young woman? And why did an anonymous "archivist" compile such a thorough dossier on Twin Peaks and its origins?"
So, take a guess, who do you think put together the dossier? And do we know this female FBI agent?
The book and audio version will be released October 18, 2016, followed by several translations including French (Amazon) and German (Amazon).
Here's the complete French summary of L'Histoire Secrete de Twin Peaks:
En 1991, Laura Palmer, une jolie lycéenne connue et aimée de tous, est retrouvée emballée dans un sac en plastique sur la berge d'une rivière. L'agent spécial du FBI Dale Cooper est désigné pour mener l'enquête. Dale, qui nourrit sa recherche d'indices que lui procurent ses rêves, découvre que Laura Palmer n'était pas celle que l'on croyait et que de nombreux habitants de la ville ont quelque chose à cacher… Il n'empêche que l'affaire Laura Palmer n'est toujours pas résolue. Vingt-cinq ans plus tard, en 2016, le FBI met la main sur un coffre dont il ne divulgue pas la provenance.
Dans ce coffre, un énorme dossier… Une agente est chargée d'analyser la somme de documents qu'il contient, et qui tous concernent l'étrange ville de Twin Peaks. Elle doit aussi déterminer l'identité de celui qui l'a constitué. Elle y découvre des secrets sur la vie des habitants, mais aussi les rapports d'enquête de Dale Cooper qui s'est depuis volatilisé, des extraits de journaux, un compte-rendu d'autopsie, des lettres et d'autres renseignements classifiés… Que s'est-il passé depuis la disparition de la jeune femme et pourquoi un « archiviste » anonyme a-t-il compilé un tel dossier sur la ville et ses origines ?
Note: They got the year of Laura Palmer's murder (not 'disappearance') wrong. It's really 1989 instead of 1991. Probably just a mistake on their part.
Thanks to Christophe Dos Santos Pereira.