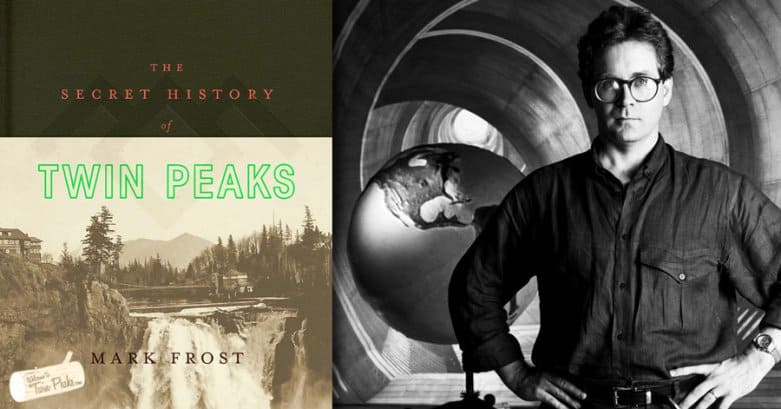 Mark Frost's The Secret History of Twin Peaks, due in October 2016 as a book and on CD, will be a dossier of documents about our favorite Pacific Northwestern town, compiled by a mysterious person (we'll discover his or her identity by the end of the book). Last weekend, for the first time ever, the author not only revealed a page from his upcoming tie-in book, but narrated it at The Ojai Valley Museum in his hometown.
Mark Frost picked a moment towards the end of the book, which is an account of Margaret Lanterman, our beloved Log Lady, delivering a eulogy for her friend Robert on the shores of Pearl Lakes, where they're scattering his ashes. It's an incredibly moving paragraph, especially knowing Catherine E. Coulson herself passed away shortly after the cameras started rolling again in September. And hearing it in Mark's voice makes me hope the Twin Peaks co-creator will be part of the cast for the audiobook. October can't come soon enough!
Mark Frost reads from The Secret History of Twin Peaks
Hat tip to Jason Eastman!
She holds her log and looks around. Really looks for some time before speaking. And she says:

This is now. And now will never be again.

Blue sky, cool air and green, green forests. Mountains, lakes and streams. The wind. Water. Earth. Air and fire. Red, yellow, purple and white. We come from the elemental and we return to it. There is change, but nothing is lost.

There is much we cannot see. Air, for instance. Most of the time. But knowing our next breath will follow our last without fail is an act of faith, is it not?

Dark times will always come as night follows day. A dark age will test us all. Each and everyone. Trust and do not tremble in the face of the unknown. It shall not remain unknown to you for long. Robert knows this now… as will we all in the sweet by and by.

(Transcription by Welcome to Twin Peaks)
Pre-order The Secret History Of Twin Peaks as a hardcover on Amazon.com (US $29.99*) and get this book on the day of release. Also available from Barnes & Noble, Amazon Canada, Amazon France, Amazon Italy, Amazon Germany, Amazon Brazil & Amazon Spain. Alternatively, the UK-based Book Depository is offering free worldwide shipping.
An Audio CD / Audiobook release with an estimated runtime of 10 hours is available for pre-order on Amazon.
[bctt tweet=""Trust and do not tremble in the face of the unknown. It shall not remain unknown to you for long." -The Log Lady" via="no"]