"When I was writing the Secret Diary of Laura Palmer, I lost it," Jennifer Lynch reveals on the Nerd/Noir podcast. "I was 21 or 22… and devastated."
Jennifer was famously asked by David Lynch to write the Twin Peaks tie-in book (Amazon) because he remembered back when his daughter was 12, she wished she'd find another girl's diary, so she could take it home and find out what the other girl yearned for and feared.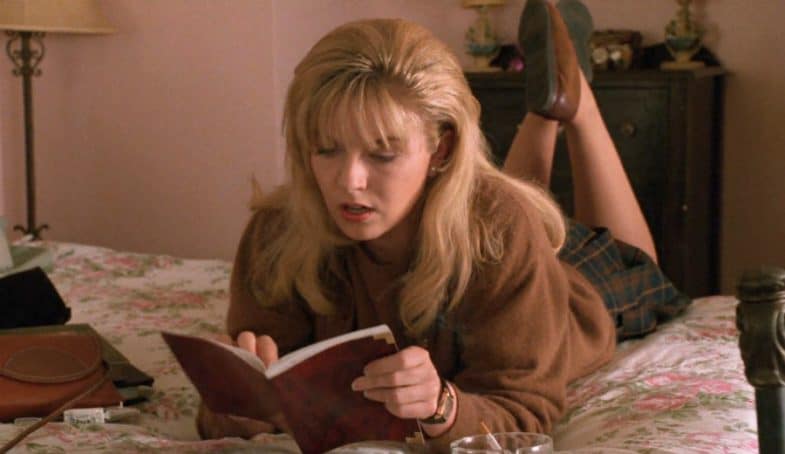 "I got to play Laura and invent Laura. And really, I was given total control," Jennifer says. She was given a list of things to mention in the spin-off novel and became "one of three air-breathing mammals" to know who killed Laura Palmer. "I wrote it straight in nine days. It was when computers had just sort of come out. I flew to New York with it… and everything was lost."
As if BOB had something to do with it, the disks were empty upon arrival.
"I called my high school writing teacher who had truly changed my life. He said: 'Well, it wasn't any good to begin with if you can't rewrite it.' And I was: 'You f*****g a******e!'"
During a recent encounter, her teacher would explain: "I knew how dangerous and awful a thing that was to say to you, but I also knew that you would be angry enough to prove me wrong. And that it would only probably get better." It worked. Jennifer ended up writing the fictional diary again in a hotel in New York in three days, "because of what my teacher had said."
While we likely missed out on certain events in Laura's life that were in the original version -maybe they were on the ripped out pages?- the second manuscript ended up being very similar. "What had echoed in me about what I thought was good in the first one, I wanted to try and say again. And I had grown so attached to Laura as a character and as a girl, I thought, she deserves for these moments to be good and I want to give her those moments. I can't tell that part of the story poorly."
Only one thing was completely different the second time around. "I wrote it on a typewriter (…) after that whole computer debacle."
The Secret Diary of Laura Palmer (Amazon) "as seen by Jennifer Lynch" was released before the second season premiere of Twin Peaks in the U.S. and went on to become a New York Times bestseller for several weeks. A new edition with a foreword by Mark Frost and David Lynch came out in 2011, and we've been campaigning for years to get Sheryl Lee to read an audio book version.
"My husband hasn't read my most recent script or the Secret Diary of Laura Palmer," Jennifer says. Neither has her daughter, and she even doubts her father ever read it.
Have you?
The Nerd/Noir Podcast #3 with Jennifer Lynch and Jim Robbins
Topics include: painting naked, getting sober, the power of a whisper, bands that make you throw up (in a good way), dealing with Asperger's, writing to the dead, how directing tv is like "being late to an orgy," and making friends with the monster under the bed. Enjoy!
https://soundcloud.com/nerdnoir/episode-3-jennifer-lynch-jim
BONUS: Jennifer Lynch on Good Morning America (September 17, 1990)
David Lynch's daughter Jennifer is interviewed on 'Good Morning America' by Charles Gibson on the morning after the 1990 Emmy Awards where 'Twin Peaks' did not fare well. Jennifer primarily discusses her book, 'The Secret Diary of Laura Palmer' which had recently been published, but the issue of 'Twin Peaks' lack of Emmys is also addressed.