UPDATE (February 3, 2017): Over 5,000 Twin Peaks fans requested it from Audible since 2013… and it worked! In fact, Sheryl Lee already recorded the audio. Expect a release date soon!
UPDATE (February 13, 2017): The audio diary will be out May 2, 2017!

Previously on Welcome to Twin Peaks…
Mark Frost loved the idea and at least 161 of you liked it as well*. I'm talking about an audiobook version of Jennifer Lynch's The Secret Diary Of Laura Palmer narrated by the one and only Sheryl Lee.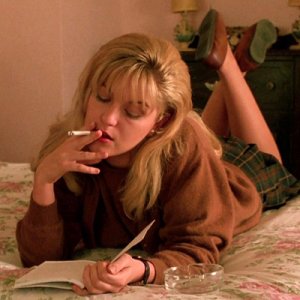 (*Scroll to the bottom of this post for an update!)
But it's been well over a year since the idea was brought up, and so far nothing has happened. That could change, because Amazon is accepting audiobook requests and if it receives enough of those for a particular title, its Audible.com subsidiary will look into producing the edition together with the author and rights holder(s). Audible Studios has already produced tons exciting audiobooks, including "A Rage in Harlem" performed by Samuel L. Jackson, "The Wonderful Wizard of Oz" performed by Anne Hathaway and Bram Stoker's "Dracula" narrated by an all-star cast including Alan Cumming and Tim Curry.
Now all you need to do in order to let Amazon and Audible know that you want an audiobook edition of The Secret Diary Of Laura Palmer, is CLICK HERE.
Seriously, one simple click is all it takes. But you can always help increase demand by sharing this blog post with all your followers, friends and fans, or by spreading this link: [UPDATE: You did it!]
When you click the link, you will see the following confirmation that your feedback has been received:

How Would The Secret Diary Of Laura Palmer Sound As An Audiobook?
Need convincing first? Then watch this video to get an idea of what it could sound like. Yes, that is Sheryl Lee's voice. Granted, her voice has matured since then, but she's a terrific actress and can definitely fool us into hearing an 17-year-old.
I still felt the hands and the mouths of the men I had been with hours before the photo was taken.

Falling in love is like holding a white flag out to your enemies and saying, "We give up, we're in love, love is surrender."

I can't do that until I know for certain that BOB is really dead. Until there is a corpse that I can kick as many times as I please. God, I hope that day comes soon.
UPDATE (June 2013): An estimated 3,200 Twin Peaks fans have so far requested an audio book version of Laura Palmer's secret diary, so Amazon/Audible should be noticing there's definitely demand. Early on, author Jennifer Lynch has shown her support by publishing this very post to her personal Facebook page and suggesting/joking she'd do BOB's voice.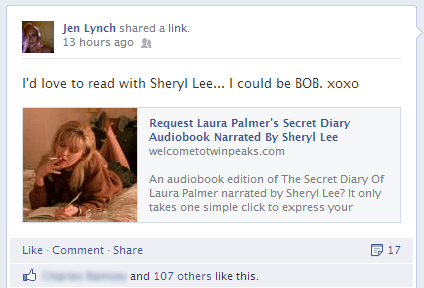 More recently, Jennifer Lynch confirmed in a tweet that she and Sheryl Lee are ready to do this!
@ThatsOurWaldo @audible_com @audibleuk sheryl lee and I are ready!

— JEN LYNCH (@thatjenlynch) June 14, 2013
UPDATE (July 2013): After 4,000 of you have so far requested the audio version of Laura Palmer's secret diary via the link above, Audible told @insanescientist that their content team has contacted the publisher about the rights involved to turn this idea into reality! Meanwhile, Jennifer Lynch explained in a recent interview why she wants to do BOB's voice: