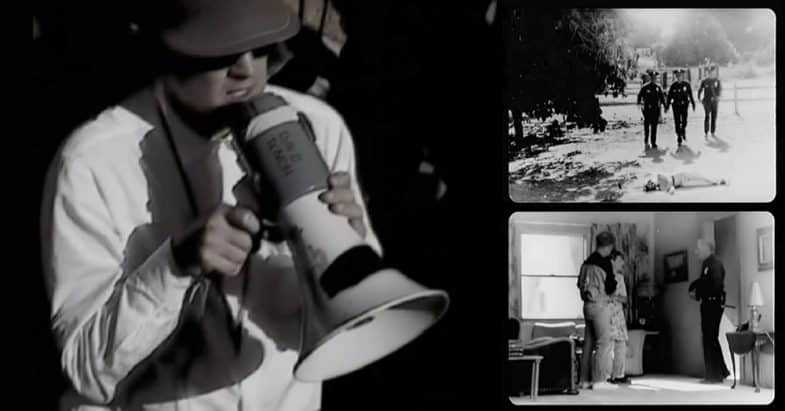 WAY TO GO!

Just beautiful. Everybody was great!

—David Lynch
To commemorate the 100th anniversary of Auguste and Louis Lumière's first "moving films", filmmakers Sarah Moon and Philippe Poulet challenged 39 renowned international directors, including David Lynch, Wim Wenders, Spike Lee and Michael Haneke, to make a short film using the original Cinématographe camera invented by the Lumière brothers in 1895. Honoring the same working conditions of the pioneer filmmakers, the shorts had to be edited in-camera and follow several rules:
A short may be no longer than 52 seconds (David's is 55 seconds)
No synchronized sound and only natural light
No more than three takes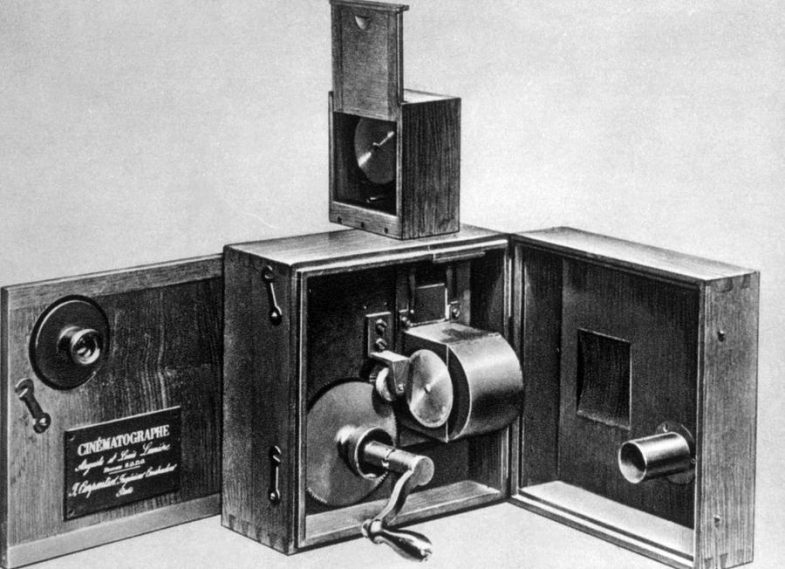 The results of the project were bundled in 1995's Lumière and Company (originally titled Lumière et compagnie, available on Amazon) and here's the making of, plus the actual short by David Lynch, Premonitions Following an Evil Deed. Unsurprisingly, it starts with a dead girl. Unsurprisingly, the rest is rather surprising.
Premonitions Following an Evil Deed: Behind The Scenes, Short & Interview
They built five different sets over at Gary D'Amico's house, who was David Lynch's special effects coordinator on On The Air, and later on Lost Highway, The Straight Story and Mulholland Drive. David shot only three 55-second takes: "You weren't allowed to stop the camera. You had to go continuously."
I like to make films because I like to go into another world.
I like to get lost in another world.
And film to me is a magical medium that makes you dream, allows you to dream in the dark.
And it's just a fantastic thing to get lost inside the world of film.
—David Lynch
Directed by David Lynch
Producer: Neal Edelstein
Cinematography: Peter Deming
Wardrobe: Patricia Norris
Cast: Jeff Alperi, Mark Wood, Stan Lothridge (Cops), Russ Pearlman (Dead Son), Pam Pierrocish (Mother), Clyde Small (Father), Joan Rurdlestein, Michele Carlyle, Kathleen Raymond (Women), Dawn Salcedo (Woman in Tank) et al.
Thanks to Ubu! Other participating directors were Sarah Moon, Merzak Allouache, Gabriel Axel, Vicente Aranda, Theo Angelopoulos, Bigas Luna, John Boorman, Youssef Chahine, Alain Corneau, Costa-Gavras, Raymond Depardon, Francis Girod, Peter Greenaway, Lasse Hallström (starring Lena Olin), Michael Haneke, Hugh Hudson, Gaston Kaboré, Abbas Kiarostami, Cédric Klapisch, Andrei Konchalovsky, Patrice Leconte, Spike Lee, Claude Lelouch, Merchant & Ivory (music by Richard Robbins), Claude Miller, Idrissa Ouedraogo, Arthur Penn, Lucian Pintilie, Jacques Rivette (starring Nathalie Richard), Helma Sanders-Brahms, Jerry Schatzberg, Nadine Trintignant, Fernando Trueba, Liv Ullmann (starring Sven Nykvist), Yoshishige Yoshida, Jaco Van Dormael (starring Pascal Duquenne), Régis Wargnier, Wim Wenders and Zhang Yimou.
In addition to the selection below, you can find some of their videos here.
Lumière et compagnie: Wim Wenders
Lumière et compagnie: John Boorman (starring Liam Neeson & Alan Rickman)
Lumière et compagnie: Jaco Van Dormael (starring Pascal Duquenne)
Lumière et compagnie: Michael Haneke's Vienne
Lumière et compagnie: Spike Lee
Lumière et compagnie: Peter Greenaway
Bonus: The Lumiere Brothers' First films (1895)
https://www.youtube.com/watch?v=4nj0vEO4Q6s