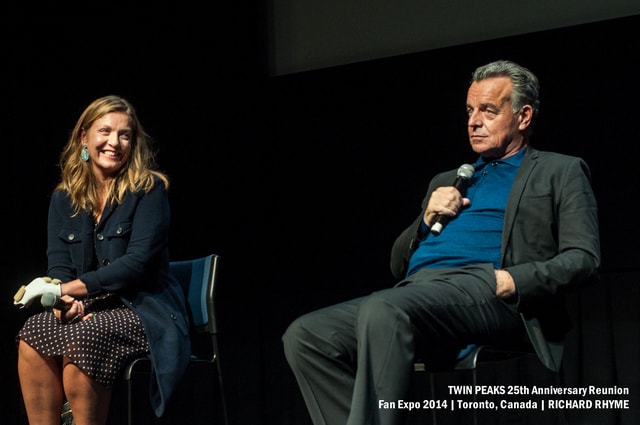 A Twin Peaks cast reunion happened last weekend at Fan Expo Canada 2014, with fan favorites Sheryl Lee, Ray Wise and Sherilyn Fenn in attendance*. Over the course of three days, fans were able to meet and greet the actors who portrayed Laura Palmer, Leland Palmer and Audrey Horne, collect their autographs, stand side by side with them in the photo op booth, and attend a panel at the Metro Toronto Convention Centre.
Then on Saturday, Rue Morgue presented a special screening of Twin Peaks: Fire Walk with Me as part of their 11th Annual Rue Morgue Festival of Fear (National Horror Expo 2014) with the cast in the audience and taking questions. Below is a selection of photos and a video from both reunion events.
*Ted Raimi, who played Rusty Tomaski aka Heavy Metal Youth, also attended Fan Expo Canada but obviously wasn't part of the Twin Peaks reunion.
Twin Peaks Interview with Ray Wise, Sheryl Lee, and Sherilyn Fenn
SceneCreek asks the actors which of their own scenes they enjoyed the most. And when they ask Sherilyn what she thinks Audrey Horne would be doing today, she mentions that Mulholland Drive was originally a spin-off idea for her character. https://www.youtube.com/watch?v=8TH0jGAnytU
Photos from Fan Expo Canada 2014 and the Twin Peaks: Fire Walk with Me Screening at TIFF Bell Lightbox
Photos kindly shared with us by Richard Rhyme (scroll down to the last photo to see his "moment" with the Twin Peaks cast). Check out Richard's Los Hipsters de Twin Peaks photo set too!