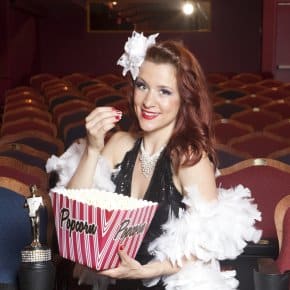 This is a guest post by Franny Fluffer, who generously offered to be my "owl" at the Twin Peaks Fest 2011. Knowing her as the meticulous producer of The Pink Room: David Lynch Burlesque, I was pretty sure Franny would do a great job documenting the annual fan event that I so sadly had to miss. And she did! Enjoy her photo report. (Twin Pie)
I fell in love with Twin Peaks the moment it aired on television. I was fast asleep on my mother's couch having very strange dreams. When I finally awoke in the middle of the pilot episode, I was delirious but seriously hooked. I was only three-years-old.
Clearly my mother's choice to let me stay up to watch intensely suggestive and daring primetime programming affected who I later became as an adult because I am now a burlesque performer and producer of The Pink Room: David Lynch Burlesque. Within the past year, The Pink Room Burlesque has satirized and paid tribute to the many works of Lynch including: Twin Peaks, Blue Velvet, Wild At Heart & Mulholland Drive.
After a successful spring season I decided it was time to take a summer sabbatical where I would visit all things Lynchian in the Pacific Northwest. The night before driving to David Lynch's birthplace I got nervous because of the LAST time someone declared they were going back to Missoula the next day (poor Madeline Ferguson). I made a point of visiting Lynch's childhood vacation spot, Hungry Horse, MT. It was in this town that saw imagery that could have inspired Lynch's filmmaking – it was also the town in which I had the best huckleberry pie of my life. Pie aside, this trip would not be complete without experiencing the Twin Peaks Fest in North Bend & Snoqualmie, WA.
I went to the festival with my mystery man. If I told you his name you would be history, man! The mood as we entered Snoqualmie couldn't have been better – the sun was setting and there were ominous clouds hanging as we drove through the windy roads of Snoqualmie Pass. At the Edgewick Inn where we stayed during the fest, we were greeted by a crotchety, old woman who seemed as though she got passed up for the role of Irene, the diner waitress in Fire Walk With Me. Our room had a flickering fluorescent light that stayed on the entire weekend despite the power being turned off. It was an awfully charming touch that I would like to believe was planned by the festival producers. Luckily, all we needed was a clean place, reasonably priced.
We started the morning with donuts and coffee -black as midnight on a moonless night- but we were disappointed to learn that the bus that was supposed to take us on the tour of Twin Peaks filming locations had broken down. It just goes to prove a point that once a traveler leaves his home he loses almost 100% of his ability to control his environment. Luckily we had a rental car so we made our own tour.
This photo gallery shows our trip from our tour around town to the celebrity dinner & farewell picnic where surprise guest Ray Wise (Leland Palmer) made appearances along with Sheryl Lee (Laura Palmer), Sherilyn Fenn (Audrey Horne), Jan D'Arcy (Sylvia Horne), Phoebe Augustine (Ronette Pulaski) & Lenny Von Dohlen (Harold Smith)!
I've been told I sometimes talk too much, I won't make that mistake today. Please enjoy this photo gallery of the Twin Peaks Fest 2011!
For those near near New York City coming October 25th, the next installment of The Pink Room will be Twin Peaks: Fire Walk With Me at Parkside Lounge, 317 East Houston Street, NYC, 9pm. Get your $10 advanced tickets and RSVP via the Facebook invite.