Welcome to Twin Peaks asked me to write a post about my documentary, A Voyage To Twin Peaks. I, of course, said, "Yes" because I love this website. Welcome to Twin Peaks is the place to go for all things Twin Peaks. My name is Scott Ryan and I am the co-host of The Red Room Podcast and have been covering Twin Peaks on the podcast for over five years. My love for Twin Peaks has been going on for a lot longer. I was actually invited to the first festival back in 1993 but was too scared to go. I can't even explain why I didn't go from 1993-2014 but I wanted to every year.
In 2015, it was the 25th anniversary and I was thinking of Laura's words, "I'll see you in 25 years." So I booked a passage and set sail for the real land of Twin Peaks. When I packed my video camera, I thought there was a good chance I would make a movie, but I wasn't sure. I decided I would just film everything and see what happened. Anyone who knows me, knows that I am in love with Sheryl Lee and Laura Palmer. I have never met her, but I thought she would have to come to the 25th year. (She didn't.) I went to the UK Festival the following year thinking she might come there in 2016. (She didn't.) Now, whenever I interact with Twin Peaks fans, they come up to me just to tell me that they have met her and I haven't. I love that I am getting famous for NOT having met Laura Palmer. Mya from the Twin Peaks Fanatics even coined me "Mr. Lee"; a name for a person I haven't met. Here's hoping for 2017.
While I was out at the 25th Festival in North Bend, I was lucky to be in the right place at the right time to get some great shots for my movie. I sat right next to Catherine Coulson, The Log Lady, at the banquet. I got a great shot of her standing up and being introduced to the fans. At the time, I had no idea that would be the last time she would ever take a bow in front of a live audience. It is that scene in the movie that seems to be moving people the most. Catherine Coulson, with all due respect to Lynch, was the heart and soul of Twin Peaks fandom. I had already edited her part together before she passed away. I am thankful for that. I put her in the movie thinking she would be alive when it played. Therefore her part is not glorified or focused on. I think she would have liked that. I had a very nice and quiet moment with her that year. She was so kind to me. I am honored when people see the movie and say it captures her and her love for Twin Peaks fans.
I was also lucky enough to capture when the new owner of the "Big Ed" house came out to see the bus tour. How would you feel if you opened your front door and there were 50 people stepping off a bus and taking pictures? Well, this owner didn't yell, she invited us to come up on the porch and get a picture. That is another favorite moment and I was just lucky to be rolling when it happened.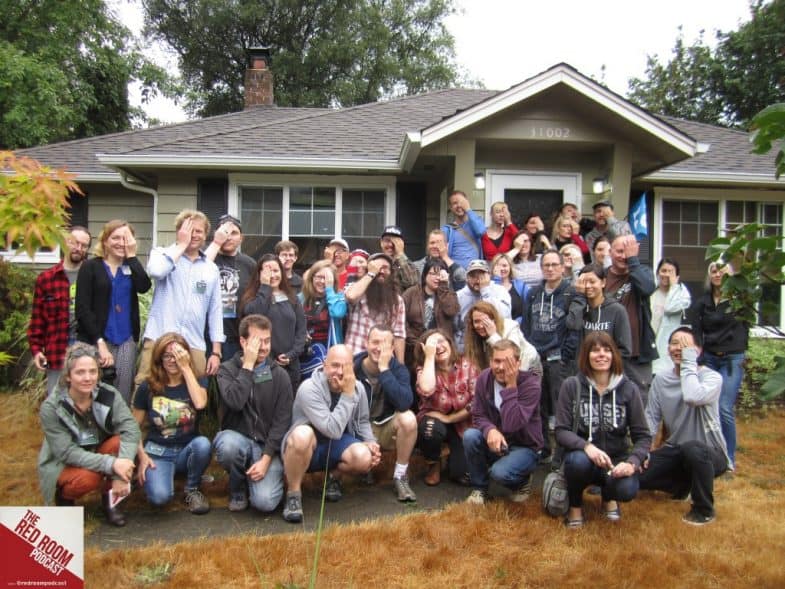 The movie basically follows my voyage through what the fest offers and what you can see out there. As soon as I got home from the fest, I sat down at the piano and wrote a song about my experience. I called it "Fantastic". When I got to the end of the movie, I decided to close with this song. (For you music fans, I used the starting chord from the Laura Palmer theme, but changed it from minor to major.) The words for the song poured out in a second. I was so moved by the friendships, the kindness and the love at the fest. But do those things really exist in our daily lives? Unfortunately, they usually don't, but they do at the festival. I am not the most sentimental human ever. I am a comedian at heart and always a cynic. There is no place for cynicism at the Twin Peaks Festival. I had no trouble writing lyrics about the people I met out there:
I met you yesterday.
So much more to say.
You said. "Goodbye."
I hope you lied.
All because she died.
Scott Ryan – Fantastic (from A Voyage to Twin Peaks)
I met such great friends. I have been given professional experiences all because Laura Palmer died. Her death paved the way for so much happiness. I sat in a real movie theater at the Great Southern and watched my film with Charlotte Stewart (Betty Briggs). I went to England where it played at the UK Twin Peaks festival. The movie also played at the very fest where I filmed it only 12 months earlier. I hit the trifecta and at each location the movie sparked wonderful conversation with strangers across the world. These are experiences that I never thought I would have when the series first aired in 1990. "All because she died…"
In 2015, I had no idea that what I was really doing was capturing the end of an era for the Festival. I captured not just Catherine's last appearance, but the last festival before there was new Twin Peaks being created. The series was over before the fest was born. The third season started filming right after the 2015 festival ended. When my camera's stopped rolling, Lynch's began. Twin Peaks and the festival will continue but it will be new and different. I feel humbled and small that without knowing it, I captured the end of an era. That is the gift I wanted to give to my fellow fans. There are no fans quite like Twin Peaks fans. The openness to strangers as well as strange ideas are the exact people I want to associate with.
If you ever wondered what all the hubbub was about going out to Washington State, seeing a waterfall, a diner and some trees, you can find out. The movie streams now on Amazon. Enjoy it, and if you shed a little tear, that is ok. It is just a moment in time. It's so fantastic, all wrapped in plastic.
A Voyage to Twin Peaks is available on Amazon and Prime members can even stream it for free.