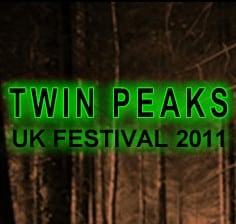 The original Twin Peaks Fest in Washington state has become a long-standing tradition, but since last year, the United Kingdom has its own Twin Peaks Festival. Just last weekend, the date of the 2011 edition has been announced and it will be November 26th. It has also been disclosed that Kimmy Robertson (Lucy Moran), a regular at the American TP Fest, will attend the European festival in London once again in 2011.
We're now busy on the fest events and are wondering whether or not to screen the 35mm print of Fire Walk With Me again? Now we know we screened it last year but due to overunning some people had to leave to get tubes so we are looking at showing it again (and of course because its just AMAZING on the big screen!)
Share your thoughts on the Twin Peaks UK Festival's official Facebook Page and get your tickets for the 2011 edition here.
Here's an video overview of their first edition that had Catherine Coulson (The Log Lady), Charlotte Stewart (Betty Briggs), singer Julee Cruise and on-set photographer Paula K Shimatsu-U as special guests.
Julee Cruise sings "Falling", "The World Spins", "Up In Flames", "Questions In A World Of Blue" and "Rockin' Back Inside My Heart" live at the Twin Peaks Festival UK 2010:
The Double R Club's performance:
And last but not least, the Q&A session with the stars: