Every Twin Peaks fan has heard of it. Most dream of attending at least once. A few thousand were fortunate enough to participate in the past. And a few dozen fans go year after year.
I'm talking about the mother of all Twin Peaks events, the annual Twin Peaks Fest in and around North Bend and Snoqualmie, WA. Are you going? It does seem like a good year to attend, doesn't it? But tickets are almost sold out, so don't sleep on it!
Every year in August, Twin Peaks fans come together to visit the filming locations, throw rocks at bottles, participate in an advanced Twin Peaks trivia contest, enjoy a nice day for a picnic with cherry pie and damn good coffee, and do plenty of other Peaksy things. But the highlight is definitely the celebrity dinner with some of the Twin Peaks cast members in attendance and available for a chat. Although the list is subject to change, confirmed special guests (and costume contest judges) so far are Sherilyn Fenn (Audrey Horne), Jen Lynch (author of the Secret Diary of Laura Palmer), Chris Mulkey (Hank Jennings), James Marshall (James Hurley), Kimmy Robertson (Lucy Moran), Wendy Robie (Nadine Hurley) and Charlotte Stewart (Betty Briggs). You know that's a stellar line-up, and then there have been several surprise guests in the past (eg. Ray Wise and co-writer Bob Engels). The festival's annual movie night will also be one of the first opportunities to watch The Missing Pieces from the Twin Peaks Blu-ray in a theater together with hundreds of fans.
UPDATE: The 2014 Twin Peaks Fest has sold out! Keep an eye on their Facebook page for secondary market tickets. Meanwhile, they've also added "the new girl" at One-Eyed Jack's, Connie Woods, to their impressive roster of special guests.
Check out the photos by Richard Rhyme and Francine Daveta for an impression of past editions of the Twin Peaks Fest.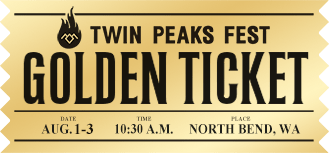 Dates: August 1-3. Check out the entire schedule.
Venue: All around North Bend, WA and beyond.
Tickets: here