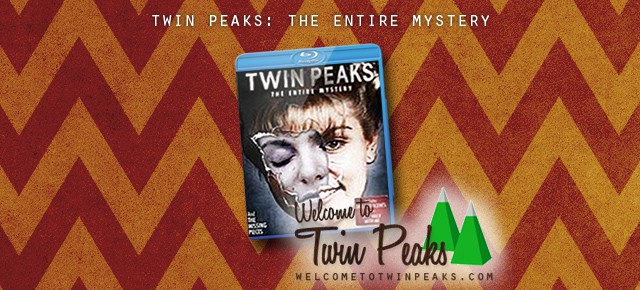 It's official! Twin Peaks: The Entire Mystery Blu-ray will be released worldwide on July 29, 2014. Pre-orders are available in the U.S. and Europe and we've answered your frequently asked questions in a world of Blu-ray. This post was originally published in July 2013 and continuously updated throughout the past year. It's been quite a ride, but nearly every speculation and rumor about the Blu-ray turned out to be true. And then some!
Pre-order Twin Peaks: The Entiry Mystery on Blu-ray.
Key moments in the past few months were obviously David Lynch's unofficial announcement of the Twin Peaks Blu-ray (with unseen content!) and Ray Wise confirming the inclusion of the deleted scenes from Twin Peaks: Fire Walk with Me. Now if you haven't done so, go check out the trailer for the long-awaited deleted scenes along with more information on the specific contents of the Blu-ray. Join the Twin Peaks Blu-ray release event page on Facebook to receive important updates and, as always, keep an eye on Welcome to Twin Peaks on Twitter and Facebook.
Everything below was written before the official announcement of Twin Peaks: The Entire Mystery on May 15, 2014:
Like Laura Palmer's double life, it's no secret to us that Twin Peaks is coming to Blu-ray. Since 2011, co-creator Mark Frost has repeatedly confirmed that a Blu-ray release was in progress, hinting several times at the possible inclusion of Twin Peaks: Fire Walk With Me and its deleted scenes. Recently, Bill Hunt from The Digital Bits said that multiple sources have indeed confirmed that the imminent Twin Peaks Blu-ray will not just include the complete series but the prequel movie as well.
UPDATE #1: This article has been refreshed with recent information provided to Welcome to Twin Peaks by John Berge of Videomagasinet. More details in the "UPDATES" below and this is still unconfirmed by the main distributor, but in short: potential March 26, 2014 release of Twin Peaks – The Entire Mystery with deleted scenes from Twin Peaks: Fire Walk with Me on 9 Blu-ray discs!
UPDATE #2: David Lynch himself has now confirmed the upcoming Twin Peaks Blu-ray release and we have it on video!

When: Twin Peaks Blu-ray Release Date
If it's not a question about if, then when will the BD be released? 03/27/2014 would be a brilliant release date for the Twin Peaks Blu-ray since, at least according to my calculations, that's exactly 25 years after Laura Palmer tells Dale Cooper she'll see him again in 25 years. And what a great opportunity for a newly filmed epilogue starring Kyle MacLachlan and Sheryl Lee in The Black Lodge, right? Right?!
UPDATE: According to the pre-order page on Amazon France, the Blu-ray will be released June 11, 2014! The pre-order page for Twin Peaks – L'intégrale (two seasons and the movie on Region B/2 with original and French audio) has been removed again.
Still rumored: Paramount Australia to release Twin Peaks: The Entire Mystery (Limited Edition) on April 30th 2014. Only 1700 copies and just the series, not the movie.
What: Twin Peaks Blu-ray Content
Let's be a bit more realistic. What can we expect from this upcoming Twin Peaks Blu-ray release?
Both seasons of Twin Peaks and the movie in crystal clear 1080p of course. Right now, the best HD quality version of Twin Peaks is available for purchase via iTunes only: season 1, season 2.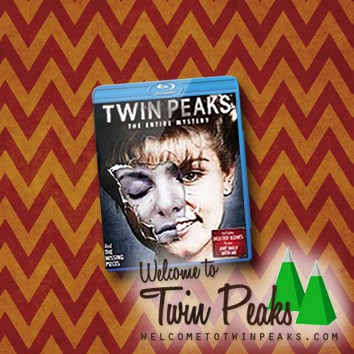 Now that Twin Peaks: Fire Walk With Me is rumored to be included, the biggest "question in a world of Blu-ray" is obviously: will this release include the 45 minutes of deleted scenes? Frost stated earlier this year that lawyers were on it. But it's not only a legal matter. As we've seen with the Blue Velvet Blu-ray, David Lynch will never release deleted scenes unless they look and sound absolutely beautiful. In my imagination, Lynch is happily working on that. Right. Now.
UPDATE: In Fox-Paramount's promotional image, the preliminary cover art for Twin Peaks: The Entire Mystery suggests the inclusion of "the missing pieces" and shows a red sticker with "deleted scenes from Fire Walk with Me." I believe the word you're looking for is: BINGO!
Even though most fans probably own it already, bonus material (in high definition) from previous releases would really make this a complete collection.
New extras could include the 14-minute documentary, Vérité: 'Fire Walk with Me, shot in 2012 by Joseph Garcia Quinn at the opening night of the Twin Peaks: Fire Walk With Me 20th Anniversay Group Art Exhibiton. Michael J. Anderson, Dean Hurley, Sheryl Lee and Jennifer Lynch are credited to appear in the doc.
And this is a no-brainer, but the Blu-ray should include the full length videos of all Q&A sessions with cast and crew from the USC's Twin Peaks Retrospective in the first half of 2013. UPDATE: This has been confirmed.
The Return to Twin Peaks documentary about the Twin Peaks Fest included in the Gold Box edition was a great watch, but Jason Deehr made an epic compilation of some of the fest's best moments especially for the 20th edition of the festival. I think it deserves a place on a Twin Peaks BD release as well.
A selection of wonderful Twin Peaks fan videos, like the Falling pole dance choreography, the amazing stop-motion Twin Peaks painting, Twin Peaks Illustrated and much, much more.
What else do you think should be included with the Twin Peaks Blu-Ray release? And what should the packaging look like? Let your imagination go wild and put your ideas in the comments. Here's Emre Unayli's packaging design for Twin Peaks: The Definitive Blu Box Edition. This is not the official box art.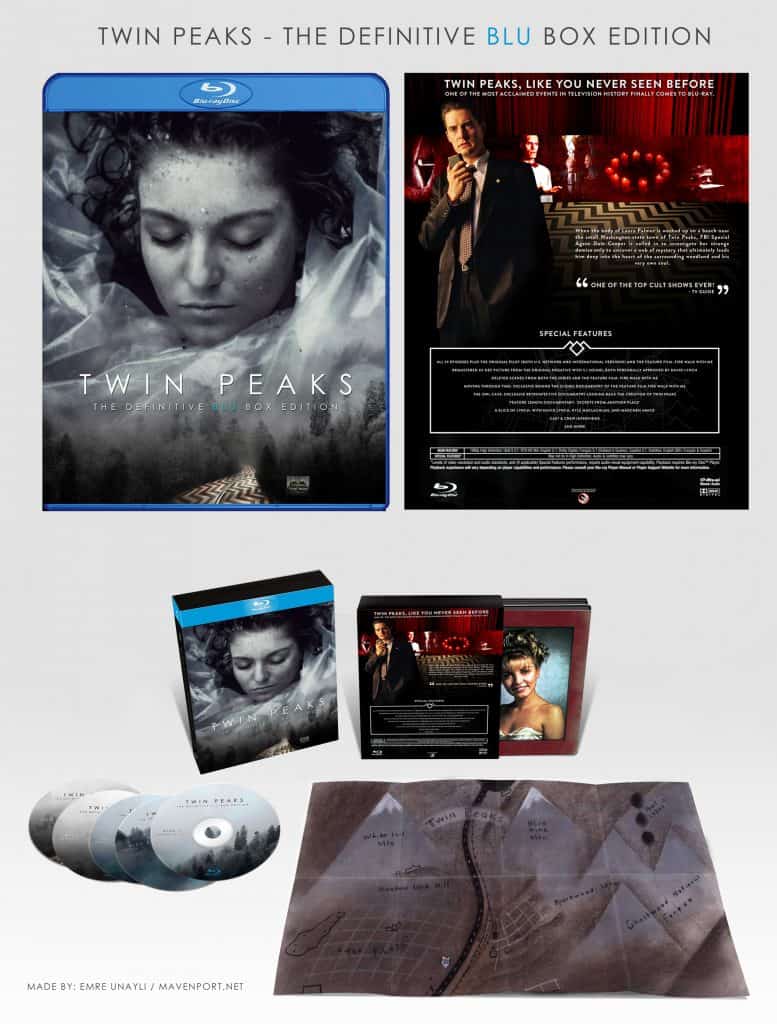 Hat tips to Joey, Shawn, Bill and John!