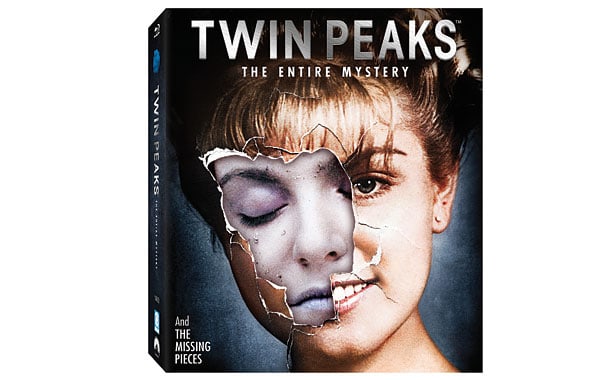 Twin Peaks – The Entire Mystery
arrives on
Blu-ray
July 29 2014
, as reported yesterday.
Here's a trailer with a selection of 90 (YES, NINETY!) minutes of deleted scenes.
The Missing Pieces Preview (Deleted Scenes)
Here are some of the contents. A full disc-per-disc breakdown at the bottom of the page.
Every episode from the complete television series
Both the U.S. and international versions of the series' Pilot
The North American Blu-ray debut of David Lynch's follow-up feature Twin Peaks: Fire Walk With Me, created from a 4K scan of the original negative
Nearly 90 minutes of deleted and extended scenes from the film
Newly transferred Log Lady introductions for each episode
Two-part feature "Between Two Worlds," Lynch himself interviews the Palmer family (Leland, Sarah and daughter Laura) about their current existence in this life and the next, and follows up with a discussion with the actors who portray them
"Moving Through Time: Fire Walk With Me Memories," an exclusive retrospective documentary featuring interviews with cast and crew who recount the making of the Twin Peaks movie and working with David Lynch
Three Twin Peaks photo galleries with over 130 behind-the-scenes images from David Lynch's personal never-before-released collection
10 vignettes of iconic Twin Peaks themes called "Atmospherics." Each features a unique montage of music, dialogue and video (including some rare outtakes) that appear as both menu backgrounds and as their own textless experience to further immerse fans in the mysterious world of Twin Peaks
Newly extended version of the Gold Box featurette "A Slice of Lynch," featuring the complete and uncut conversation between David Lynch and actors Kyle MacLachlan and Mädchen Amick.
Picture upgrades to many shots in the TV series
Hours of never-before-released material that dives into the fascinating story behind the celebrated pop culture classic
English 7.1 DTS-HD Master Audio (Series and Feature), original English Stereo 2.0 (Series and Feature), Latin American Spanish Mono (Series), Latin American Spanish Stereo (Feature), Brazilian Portuguese Mono (Series), French Mono (Series), French 5.1 (Feature), Italian Mono (Series), Italian Stereo (Feature), German Mono (Series), German 5.1 (Feature), Castilian Mono (Series), Castilian Stereo (Feature), Japanese Mono (Series), and Japanese Stereo (Feature). The 10-disc collection also includes English SDH, Latin American Spanish, French, Italian, German, Castilian, Japanese, Dutch, Swedish, Danish, Norwegian, and Finnish subtitles (Series and Feature)
Sign up to receive an e-mail notification when pre-orders are enabled!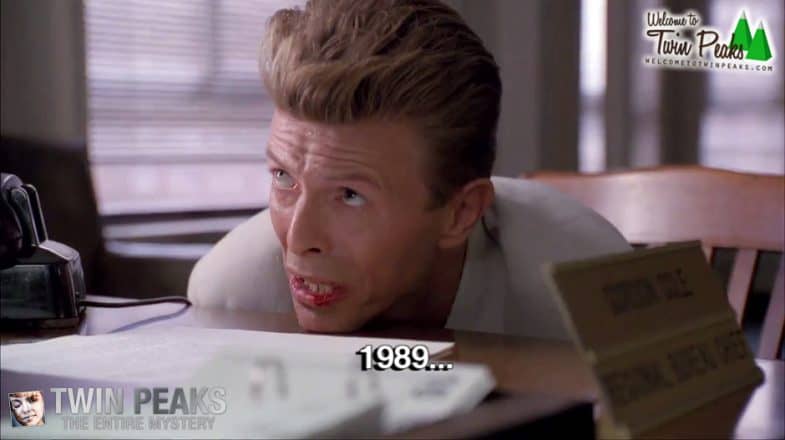 Disc One:

Pilot Original Version / Alternate International Version

Episode 1, Episode 2

Special Features

o Log Lady Intros (HD)

o Preview and recaps on select episodes (HD)

Disc Two:

Episode 3, Episode 4, Episode 5, Episode 6, Episode 7

Special Features

o Season 1 Image Gallery

o Twin Peaks Sneak Peeks (HD)

o Log Lady Intros (HD)

o Previews and recaps on select episodes (HD)

Disc Three:

Episode 8, Episode 9, Episode 10,

Special Features

o A Slice of Lynch: Uncut (HD) – NEW!

o Season 2 Image Gallery

o Promos (HD/SD)

o Log Lady Intros (HD)

o Preview and recaps on select episodes (HD)

Disc Four:

Episode 11, Episode 12, Episode 13, Episode 14,

Special Features

o Series Deleted Scenes

o Series Deleted Scenes (HD) – NEW!

o Outtakes (HD) – NEW!

o Log Lady Intros (HD)

o Preview and recaps on select episodes (HD)

Disc Five:

Episode 15, Episode 16, Episode 17, Episode 18,

Special Features

o Return To Twin Peaks

o Location Guide

o The Glastonbury Archives

§ 17 Pieces of Pie: Shooting at the Mar T (AKA RR) Diner

§ Mark Frost Interview with Wrapped in Plastic

§ Learning to Speak in the Red Room

§ An Introduction to David Lynch

§ Lucy Bumpers

§ 1-900 Hotline

§ Production Documents

§ Image Galleries

o Log Lady Intros (HD)

o Preview and recaps on select episodes (HD)

Disc Six:

Episode 19, Episode 20, Episode 21, Episode 22

Special Features

o Postcards From The Cast

o Twin Peaks Sneak Peaks (HD)

o Log Lady Intros (HD)

o Preview and recaps on select episodes (HD)

Disc Seven:

Episode 23, Episode 24, Episode 25, Episode 26,

Special Features

o Cast And Crew Interviews

o Log Lady Intros (HD)

o Preview and recaps on select episodes (HD)

Disc Eight:

Episode 27, Episode 28, Episode 29,

Special Features

o Secrets From Another Place: Creating Twin Peaks (HD)

§ Northwest Passage: Creating the Pilot

§ Freshly Squeezed: Creating Season One

§ Where We're From: Creating the Music

§ Into the Night: Creating Season Two

o Log Lady Intros (HD)

o Preview and recaps on select episodes (HD)

Disc Nine:

Twin Peaks: Fire Walk With Me

The Missing Pieces: Deleted/Alternate Scenes (HD) – NEW!

Special Feature

o Archival Interviews

Disc Ten:

Special Features

o Between Two Worlds (HD) – NEW!

§ Palmer Family Interview

§ Actors Discussion

o Moving Through Time: Fire Walk With Me Memories (HD) – NEW!

o Reflections On The Phenomenon Of Twin Peaks

o US Trailer

o International Trailer

o Fire Walk With Me Photo Gallery – NEW!

o Atmospherics (HD) – NEW!

§ Pie § Signs/Places

§ Coffee

§ Notes

§ Water

§ Donuts

§ Owls

§ The Ring

§ The Red Room