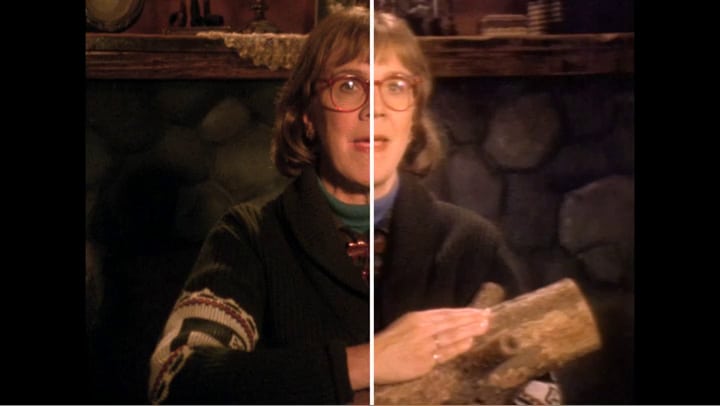 The Log Lady introductions starring Catherine E. Coulson were written and directed by David Lynch specifically for the Twin Peaks rerun on Bravo that kicked off in June 1993. Every single one of these intros has now been remastered and enhanced in beautiful HD for the Twin Peaks: The Entire Mystery Blu-ray set.
Pre-order Twin Peaks on Bluray!
Have a look at the teaser below to preview how the new transfer is different from the originally aired Log Lady intros that were included in the Gold Box set. This video, which is the intro to Episode 5, is not HD but it shows the enhancements that were made. And if you like the look of the HiDef Log Lady, check out Killer BOB in HD as well.
I play my part on my stage. I tell what I can to form the perfect answer. But that answer cannot come before all are ready to hear. So I tell what I can to form the perfect answer. Sometimes my anger at the fire is evident. Sometimes it is not anger, really. It may appear as such, but could it be a clue? The fire I speak of is not a kind fire.
Via SciFiNow.