The 4th annual Harry Dean Stanton Fest is being held June 13  through 15, 2014 and for the first time in the festival's history, the celebrated actor will be in attendance!
Since 2011, The Lexington Film League and The Lexington Public Library join hands every year to honor Kentucky's most beloved character actor and longtime David Lynch collaborator, Harry Dean Stanton. This year's special guests are Mr. Stanton himself and actress, singer, songwriter and close friend of the actor, Michelle Phillips.

Here's the schedule for Harry Dean Stanton Fest 2014:
Friday, June 13
Cool Hand Luke screening courtesy of Downtown Lexington Corporation's Fountain Films on Friday series. Bring your picnic baskets, blankets, and lawn chairs and join us at dusk in Triangle Park to watch a young HDS sing in this Paul Newman classic!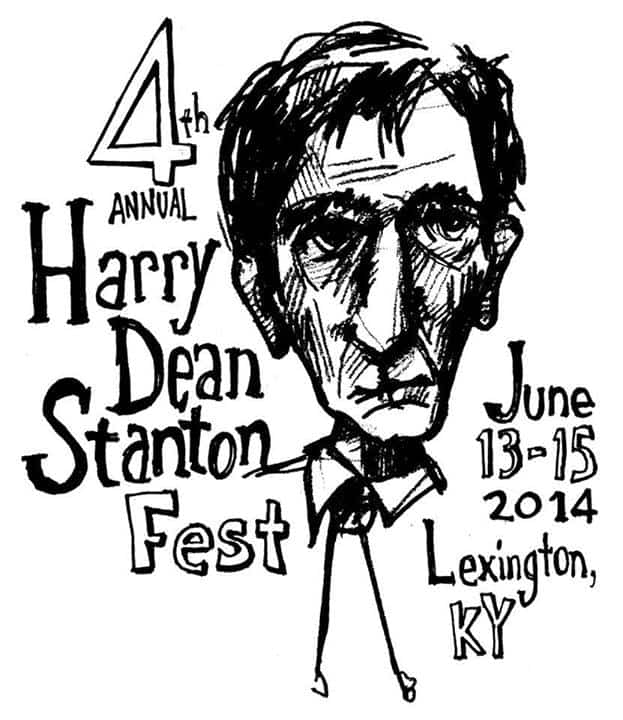 Saturday, June 14
Two by John Carpenter:
2 PM: Christine screening at the Lexington Public Library's Farish Theater. This 1983 classic based on the novel by Stephen King is the first of two John Carpenter films that we will be showing on Saturday. Like Harry Dean, Carpenter also spent his formative years in Kentucky and attended college here. (Bonus movie trivia: Carpenter credits the musical score in Halloween–actually performed by himself and some buddies–as the Bowling Green Philharmonic Orchestra in honor of the town where he grew up!)
7 PM: Escape from New York screening at the Farish Theater. This 1981 futuristic thriller (back when 1997 was the future!) stars Harry Dean Stanton alongside Kurt Russell, Isaac Hayes, and Adrienne Barbeau.
9 PM: Escape from New York after party featuring Harry Dean Stanton trivia (with prizes!) and "The Please Kill Me's," a musical salute to the 70s/80s CBGB's scene in NYC performed by Palisades and featuring an all-star guest vocalist lineup from some of Lexington's favorite bands. This is the 3rd movie/music event that Palisades has curated/performed for Harry Dean Stanton Fest and it is always a highlight of the weekend!
Sunday, June 15
Two from the '70s:
2 PM: The Missouri Breaks screening at the Lexington Public Library's Farish Theater. Written by Thomas McGuane and directed by Arthur Penn, this 1976 western stars close HDS friends Jack Nicholson and Marlon Brando.
7 PM: Dillinger screening at the Kentucky Theatre followed by a Q&A with Harry Dean Stanton and Michelle Phillips. According to Hollywood, it takes a Kentucky boy to play John Dillinger. Long before Johnny Depp did it in Public Enemies, Louisvillian Warren Oates did it in the much superior Dillinger, directed by John Milius. Following the screening, Mr. Stanton and Ms. Phillips will discuss the film, their 40 year friendship, and their careers in Hollywood.
All events are free with the exception of the Escape From New York after party and Dillinger which are $5 and $7, respectively. Tickets will be available early next week. For more information, please visit harrydeanstantonfest.org. And if you haven't yet, make sure to purchase and watch the beautiful Harry Dean Stanton: Partly Fiction documentary (iTunes or DVD) by Sophie Huber which premiered at the HDS fest last year.
UPDATE: Here's a video report of the 2014 Harry Dean Stanton Fest.
I really don't know what to say. Does anyone have any idea?
—Harry Dean Stanton