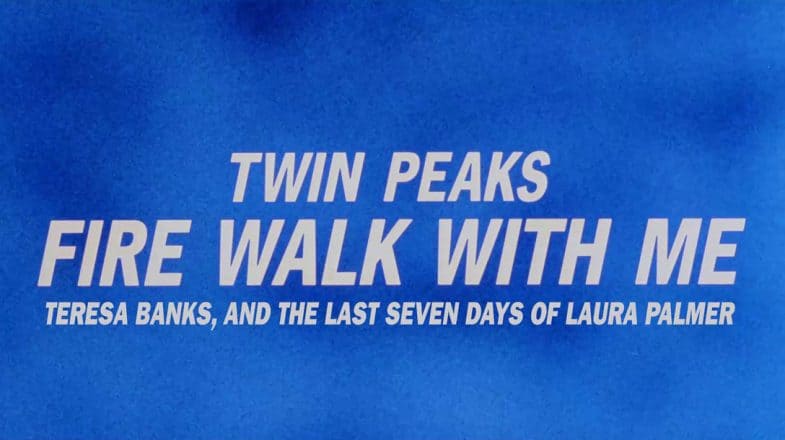 Ever since the news broke that David Lynch was finally going to reveal the deleted scenes from Twin Peaks: Fire Walk with Me, people have wondered whether he'd put them back in the movie or not. He never does. So once again, the director left his final cut for what it was and released the unseen footage as The Missing Pieces, a separate feature on the Twin Peaks Blu-ray.
Of course, this left many fans longing to see those scenes within their original context. But it didn't take long for fan editor Q2, who previously made an epic five hour cut of the entire show called Northwest Passage, to step up and accept the challenge to produce a version of the film that was as close to the shooting script as possible, which turned out to be "definitely more challenging than anticipated", as he told Welcome to Twin Peaks. "I didn't expect the musical cues between theatrical scene and extended scene to be this troublesome." That's the reason why this edit offers two audio selections:
The main one is my preferred version. The second has one scene altered. When Jeffries tells Cole about the convenience store I couldn't decide if I liked it with music in the scene like the theatrical cut, or as the Missing Pieces presents it (i.e. no music). I put it to a vote and it came out as a tie; there was no obvious choice. Because of that I offer the 'no music' version as an alternate audio track (track 2) within the MP4.
Only a week after the official release of Twin Peaks: The Entire Mystery, here is Twin Peaks: Fire Walk with Me – Teresa Banks, and the Last Days of Laura Palmer, an unofficial, three and a half hour fan edit by Q2 that includes all but three deleted scenes: Cooper talking to Diane, Bobby giving Laura $10,000, and Bobby testing drugs in the woods. These were left out because there was no good way to make them adjacent scenes, Q2 explains:
Cooper talking to Diane is sort of a goofy scene. The following scene where Coop walks into Gordon's office is more serious. The two scenes have different vibes and just felt wrong next to each other. I looked at putting it later in the film but by that point we've had the Jeffries scene and Desmond has disappeared. It's more somber so that Diane scene felt like it came out of nowhere.

As for the Bobby/Laura scenes, it happens after the beautiful montage Laura's day at school. It's heartbreaking, and to have that suddenly be interrupted by a goofy (high?) Laura getting the money felt odd. In hindsight, I suppose I could have left Bobby's scene in, but when Laura goes to his house, he tells her the bad news anyway so it didn't make sense to have the same information conveyed twice.
Piracy is illegal, so download only if you have already purchased Twin Peaks on Blu-ray.
UPDATE: An improved version of this edit has been completed but is not publicly available. Q2 has decided to take his fan edit of Twin Peaks: Fire Walk with Me offline indefinitely out of respect for all parties involved. Thank you for your understanding.
Original run time: 135 minutes
Fan edit run time: 209 minutes
Specs: 1080p High Definition (MP4), English 5.1 Dolby Digital
Again, this fan edit is a single person's approach to Twin Peaks: Fire Walk with Me and The Missing Pieces. It is not endorsed by David Lynch, MK2, CBS, Paramount, or anyone else but Q2, and there will likely be more fan edits of the same material in the future (watch this space!).