On July 16th, two weeks ahead of the official Twin Peaks Blu-ray release, a couple of hundred lucky invitees witnessed The Missing Pieces from Twin Peaks: Fire Walk with Me for the very first time.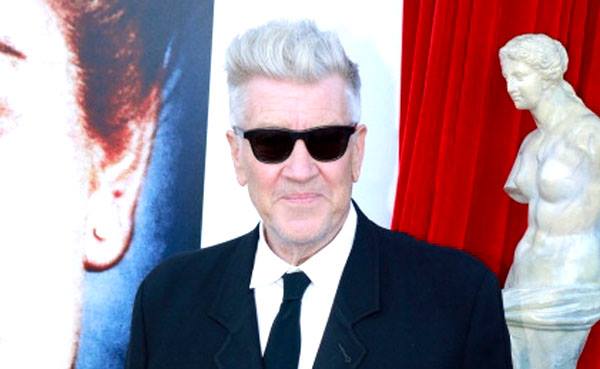 The world premiere at the small Vista Theatre in Los Angeles was also attended by over a dozen of very special guests. Here's a list of Twin Peaks cast and crew members spotted walking down the red carpet black and white zig zag carpet a few minutes before the screening started: Angelo Badalamenti, Ray Wise, Sheryl Lee, Grace Zabriskie, Russ Tamblyn, Miguel Ferrer, James Marshall, Peggy Lipton, Mädchen Amick, Kimmy Robertson, Catherine E. Coulson, Caleb Deschanel, Mary Jo Deschanel, Bob Engels and David Lynch. The director then hurried into the theater to introduce the screening of the long-awaited deleted and extended scenes from Twin Peaks: Fire Walk with Me. Here's a transcript of his completely fitting speech, followed by a video recording.
There is an abundance of fish in the sea. But tonight, I would like to speak about wood. There are many times in the world when the phone rings and someone is inquiring about wood. This happens primarily at lumber yards and in this case, it's necessary to have a phone. It is only natural that trees are growing and that they are made of wood. Much happiness can come from observing a tree and the same can be said about observing the many shapes fashioned out of wood. Quite often when we are talking about beauty, we are talking about wood. Thank you very much!
David Lynch introducing The Missing Pieces from Twin Peaks: Fire Walk with Me on July 16 2014 (Video)
To give you an idea of what else went on at the Blu-ray launch event, Welcome to Twin Peaks made the following (and growing) selection of tweets, Facebook and Instagram photos.
A Twin Peaks premiere in 2014! Is this a dream?
Ray Wise meets Angelo Badalamenti on the black and white zig zag carpet in front of the Vista
Sheryl Lee proudly holds the Twin Peaks Blu-ray box set with herself as Laura Palmer on the front cover
Sheryl Lee with the Twin Peaks Blu-ray, out July 29th: http://t.co/N5fT3xBxzL! #TheMissingPieces Photo by Daniel Lee: pic.twitter.com/F5lIZqZ6PX

— Twin Peaks (@ThatsOurWaldo) July 17, 2014
Russ Tamblyn brought his Dr. Jacoby 3D glasses and a Twin Peaks: Fire Walk with Me crew jacket WITH the Bookhouse Boys patch
????????????????????????????????Dr.?????????????????????????ww ??????????????????? pic.twitter.com/xoZ4odIV6H

— ABC??? (@Dane_ABC) July 17, 2014
The Palmers reunited: Ray Wise said Grace Zabriskie was the best TV wife he ever had
???????????????????????????????????????????????????????????????????? pic.twitter.com/p6tEoiMMoW

— ABC??? (@Dane_ABC) July 17, 2014
And Fred and Ginger sealed it with a kiss…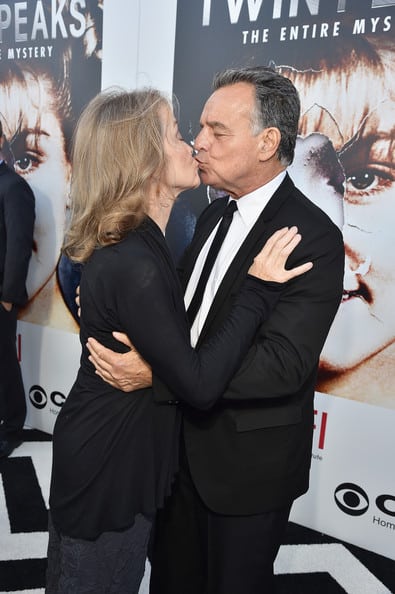 James Marshall, way cooler than James Hurley
Mädchen Amick absolutely loved The Missing Pieces
GUYS!!! My mind is blown!! I'm not kidding u HAVE to get #TwinPeaks #TheEntireMystery blu-ray 7.29.14 It was amazing! pic.twitter.com/66sOvq5HNm

— Mädchen Amick (@auntwendythecat) July 17, 2014
David Lynch and Catherine E. Coulson, good friends since Eraserhead
David Lynch just gave Catherine Coulson (The Log Lady) a big hug! #TwinPeaks

— Lindsey Bahr (@ldbahr) July 17, 2014
David Lynch takes his shades off to pose with the radiant Kimmy Robertson
David lynch and Lucy! #twinpeaks #themissingpieces pic.twitter.com/ADZIIKP2RK

— Daniel Lee (@danielstation) July 17, 2014
Ray Wise pleasing his Twitter fans as always
A little something for my fans 🙂 pic.twitter.com/hvjKH5KgKv

— Ray Wise (@therealraywise) July 17, 2014
Gordon still has a weak spot for Shelly (photo by Ivars Ozols)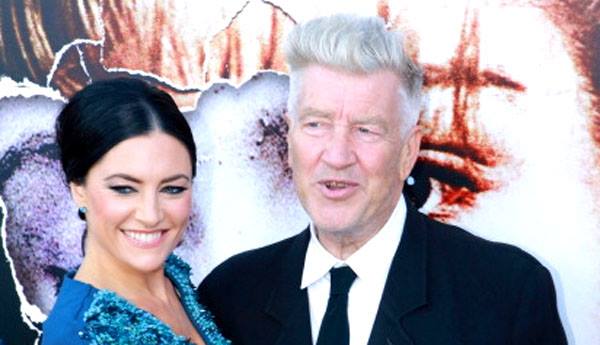 Lenny Von Dohlen aka Harold Smith wore a fitting jacket to the premiere, but a blue rose would've made his outfit complete
A shut in no more, it's Lenny Von Dohlen. And I will say this dude has crazy piercing blue eyes! #twinpeaks pic.twitter.com/iLR3DHyaQw

— Eric Goldman (@EricIGN) July 17, 2014
Even the always busy Miguel Ferrer attended (but I'm still waiting for that Albert Rosenfield spin-off)
The awesome Miguel Ferrer. #twinpeaks pic.twitter.com/1weLzLKtaV

— Eric Goldman (@EricIGN) July 17, 2014
Mary Jo Deschanel aka Eileen Hayward was there with her husband Caleb
Mary Jo Deschanel who not only mothered Donna Hayward but is able to effortlessly birth FOX stars. #TwinPeaks pic.twitter.com/0uJxtnNaC6

— Eric Goldman (@EricIGN) July 17, 2014
Peggy Lipton aka Norma Jennings  (photo by Ivars Ozols)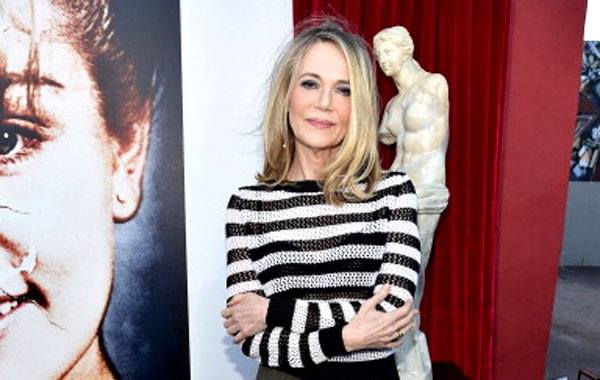 Sheryl Lee and Ray Wise inside the theater waiting for the screening to start
Here everyone @therealraywise and Sheryl Lee -enjoy pic.twitter.com/Oh2BFj8Uhn

— Anthony Phills (@AnthonyPhills) July 17, 2014
Hands down the coolest photo of the night was taken by the Blu-ray's producer Charles De Lauzirika and stars Ray Wise, Grace Zabriskie, David Lynch, Sheryl Lee, and Russ Tamblyn
A little photo I took tonight. #twinpeaks #TheEntireMystery #firewalkwithme pic.twitter.com/rwfNzkE7bu

— Charles de Lauzirika (@Lauzirika) July 17, 2014