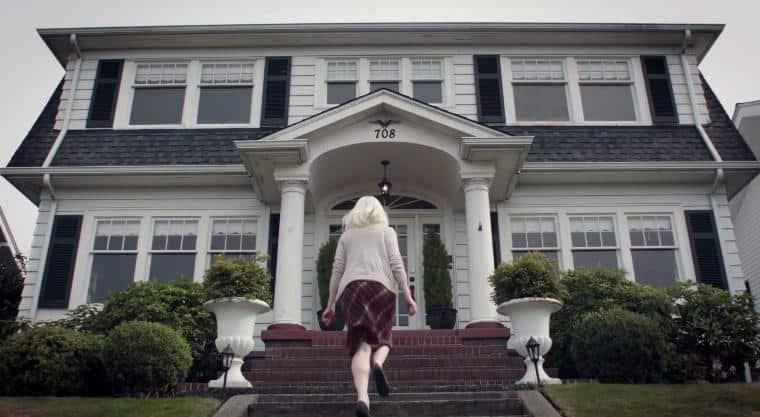 You might not have $549,950 locked away in your safety deposit box —because that's a lot of Girl Scout cookies!— but you can still save the Palmer house!
When a few weeks ago I wrote about Laura Palmer's house being up for sale, I included my wish for a Twin Peaks fan to buy the place and turn at least one room into a museum. Guess what? Stephen Lange, a Seattle-based actor and director, is now heading a team that wants to purchase the house in Everett, WA where both the pilot and Twin Peaks: Fire Walk with Me was filmed*, and turn it into a museum, event space and bed & breakfast for all Twin Peaks fans to enjoy for years to come.
"Obviously, this is a huge undertaking", Stephen told Welcome to Twin Peaks, "but you gotta dream big." Talking about dreams: they plan to turn the basement into a Red Room movie theater fully stocked with all things Twin Peaks and David Lynch!
To raise money, Stephen launched a Kickstarter campaign with perks such as "I Saved The Palmer House" posters, "The Palmer House" t-shirts, guided tours with complimentary coffee and donuts, overnight stays for up to 8 guests (though you might want to sleep in Laura's bedroom all alone for the ultimate "Fire Walk with Me" experience), permanent name plaques in the living room, movie night at the Palmer house, and year- or lifelong access to all Lynchian events at the house.
Evidently, time is limited to as long as the house is on the market**, so pledge today if you want to save the Palmer house as seen in the pilot and the prequel movie. And start planning your visit for when they open its doors in 2015.
The Palmer House – Twin Peaks Museum and Tourist Destination
Serving as home to Leland, Sarah, and Laura, it was witness to some of the most climactic moments in the series and stands as an iconic landmark for the show. We discovered its market status when we happened upon this article on the foremost website for all things Twin Peaks, https://welcometotwinpeaks.com/locations/laura-palmer-house-for-sale/. When I read the quote, "I always hope a fan ends up buying it and turns at least one room into a museum or a shrine", I figured someone had to do it. Why not us? Adopting the model used by the Christmas Story house, we began to run with the idea that we could purchase "The Palmer House" and convert it into not only a shrine for the show, but also a Twin Peaks-themed event space, as well as a bed and breakfast.
*The exterior of the Palmer residence we see in the establishing shots was filmed in Monroe, WA. The interiors we see in the series were based on the Everett house, but built on a sound stage in L.A.
**Don't worry: if the home is sold while the campaign is still live, they will cancel fundraising and your pledge will not be deducted from your account.
UPDATE: The Kickstarter campaign failed to reach its goal. Let's just hope the house is in good hands with its new owner.