"Don't hold me to it Keanu, but I think I am [done with film]." David Lynch told Keanu Reeves in the 2012 Side By Side documentary. And in his book, Catching the Big Fish, you'll find a more straightforward statement written in black and white: "For me, film is dead."
Inland Empire, David Lynch's nearly 8-year-old but most recent feature film, was shot entirely on digital video using a Sony DSR-PD150. Last year, he shot a music video for Nine Inch Nails on a Canon 5D Mark II and the Hasselblad Lunar. And there are plenty of additional examples from the past decade that indicate the director has turned his back on the medium he so expertly used for the majority of his filmography.
But in a bit of a surprise move, David Lynch declared in an interview on Italian television yesterday that he's falling back in love with film again, stressing that he's talking about celluloid.
 "Celluloid is so beautiful, but digital is getting better and better and better. Cinema will never die. Celluloid is in trouble."
—David Lynch (2/2/2014)
But an old flame never dies, right? When Che tempo che fa host Fabio Fazio then asked if the director was working on a new movie project, David Lynch answered in true Major Briggs manner: "I'm… We're all top secret!"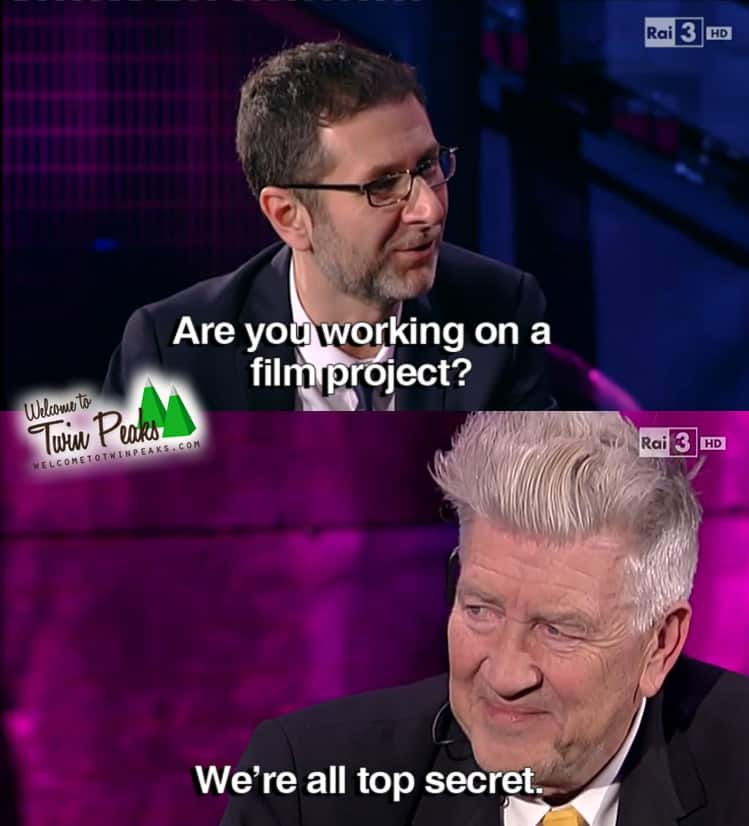 Last year, daughter and fellow filmmaker Jennifer Lynch disclosed that her dad is trying to make a mind-boggling new movie. Fans' minds would be pretty much boggled already by the mere thought of a new David Lynch movie shot on 35 mm just like his masterpieces.
You can watch the entire David Lynch interview that aired February 2nd 2014 on Rai Tre, but be aware that it is overdubbed by an English to Italian interpreter.
https://www.youtube.com/watch?v=lVm6D-ePkec