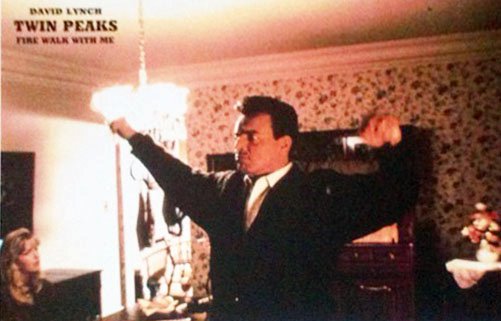 Ray Wise has been giving lots of interviews lately in promotion of Big Ass Spider, the Mike Mendez movie in which he plays a character named Major Braxton Tanner. In nearly every interview, Ray is asked about Twin Peaks. And in the best ones, he is asked specifically about the upcoming Twin Peaks Blu-ray and the rumors surrounding it.
Luckily for us, Ray is all but secretive and very confident about it, repeatedly stating that Twin Peaks: Fire Walk with Me plus some of the movie's much desired deleted scenes will be part of the Twin Peaks Blu-ray box set. An early mock-up of its packaging mentioned the deleted scenes, and the set is probably going to be called "The Entire Mystery". Throw in the fact that David Lynch himself said it will include "things that haven't been seen before," and I'm convinced we're finally going to see many scenes from the original cut!
If this news makes you feel like snapping your fingers to the "Dance of the Dream Man", then check out the Let's rock! project (extended until January 31).
"Well, I'm sure more rumors will come out of it, but we were meeting to discuss and do some things for the new box set that's coming out on Blu-ray. All the "Twin Peaks" episodes, including the pilot, also paired with FIRE WALK WITH ME, the prequel movie. So, all the "Twin Peaks" material is going to be in this new set, plus deleted scenes from FIRE WALK WITH ME."

—Ray Wise to AintItCool.
Here's another quote:
"It will be a new box set of the pilot and episodes combined with "Fire Walk with Me", the prequel movie. It is everything. Everything! Also included will be deleted scenes from "Fire Walk with Me". I think David (Lynch)'s original cut of the film was about 3.5/4 hours long, so there is stuff that no one has ever seen that is going to be on this new box set. I think it is pretty great. So stay tuned."

—Ray Wise to Media Mikes.
In Blu-Ray we trust! 😉
You can now follow Ray Wise on Twitter too: @therealraywise. If you want to follow all Twin Peaks cast and crew members currently active on Twitter, then subscribe to the Welcome to Twin Peaks list.
UPDATE (April 10, 2014): I almost feel sorry for Ray Wise, having to dodge all the Twin Peaks Blu-ray questions… Here's one other and recent response from him at the MIPTV conference in Cannes, France.
"They don't want me to talk about anything, but I can say that the new Blu-ray set that comes out will have some great surprises for the fans of Twin Peaks. They're gonna like what they see and it's something they haven't seen before."

—Ray Wise to Alain Carrazé.