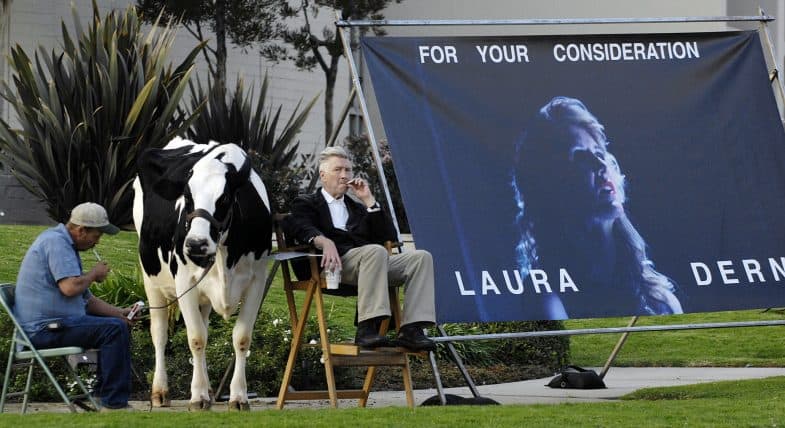 (Photo by Chris Pizzello)
Laura Dern's performance in Wild earned her an Oscar nomination for Best Performance by an Actress in a Supporting Role. That's her second Academy Award nomination so far, but but back in 2006, David Lynch campaigned for her leading role in Inland Empire to be acknowledged the Academy. And how!
On the corner of Hollywood Boulevard and La Brea in Los Angeles, the director sat out in the open next to a giant poster of his longtime collaborator overlayed with the words "For your consideration." Next to him, what else than a live cow and its handler, Mike Fanning? A second poster said "Without cheese there wouldn't be an Inland Empire," and when somebody had the guts to ask him what that meant, he'd say: "Cheese is made from milk. Get it?"
Do you?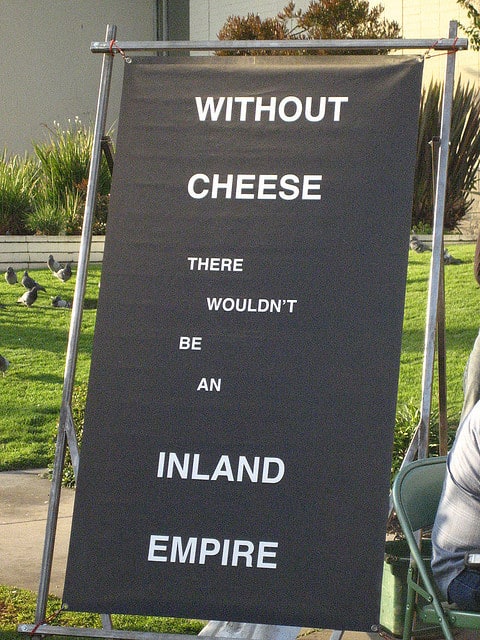 From an interview with Wired:
You know, there are a bunch of Academy members and all sorts of other awards activity going on out there. And people solve problems with money normally; well, I don't have any money. And I also feel that the Academy members must be sick of seeing ad after ad after ad costing a fortune with no one really paying attention. Honestly, I'm out there with the cow, and meeting the greatest bunch of people. The other day, we had my friend (director of USC's Polish Music Center) Marek Zebrowski out there playing piano. It was so beautiful, such a great day, out with Georgia the cow, beautiful piano music, meeting so many great people.
Here's a video of two guys accidentally running into the surreal scene and taking the opportunity to approach David Lynch.
If you want to see the greatest performance of 2006, check out Laura Dern's performance in Inland Empire.
—David Lynch
As you probably guessed, his quirky PR did not do the trick. Penélope Cruz, Judi Dench, Meryl Streep, Kate Winslet and Helen Mirren were nominated with the last mentioned taking home the award in 2007.
When David Lynch was recently asked about a potential Oscar for Laura Dern in 2015, he answered:
I love Laura Dern. She's a great actress and she's like family to me. Many great actors and actresses don't win an Oscar.