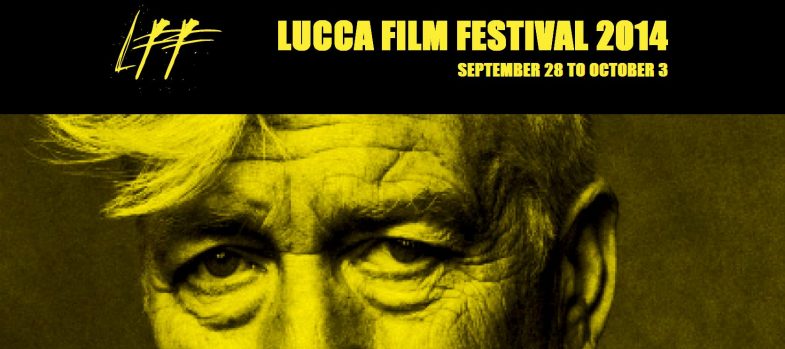 While still being lauded in Philadelphia, David Lynch is already on his way to Tuscany, Italy to be the guest of honor at the 10th anniversary of the Lucca Film Festival. The international cinema event, to be held in Lucca from 28 September to 3 October 2014, will celebrate the artist with a complete film retrospective, an orchestral concert, two exhibitions and a conference on art, economics and Transcendental Meditation.
If you happen to be near Lucca the next few days —and please do let me know if you are— you're in luck! Here's a breakdown of all (and usually free) David Lynch events:
Sunday, September 28
A free conference kicks off at 5:30 PM at the Auditorium of S. Micheletto with panelists David Lynch, Professor John Hagelin (President of the David Lynch Foundation) and Pietro Pietrini, University of Pisa, and moderator Prof. Fabio Pammoli of IMT Lucca.
This will be followed by the inauguration of "XXIV waver for solo piano, to David Lynch" by Massimo Salotti and an audiovisual interactive installation dedicated to David Lynch at the Oratorio of San Francheschetto at 8 PM.
At 9 PM, at the Church of San Francesco and in the presence of the David Lynch, Maestro Gianpaolo Mazzoli will conduct the Orchestra of the Conservatory L. Boccherini. They will perform a selection of music taken from his films and the director will introduce the performance, which is called Lost Songs. Admission is free and tickets are available at the box office of Teatro del Giglio (call 0583 465320) starting today.
Monday, September 29
At the Auditorium of S. Micheletto at 10 AM, there will be a Conversation on Cinema with David Lynch , moderated by Nicola Borrelli and Alessandro Romanini. Once again, this event is free to attend so arrive on time.
Later that day, there will be screenings of The Elephant Man, DumbLand, The Amputee, Lumière: Premonitions Following an Evil Deed and Blue Velvet.
In the evening, David Lynch will receive a Lifetime Achievement Award, followed by more screenings: the restored versions of Absurda (Scissors), The Alphabet and Six Figures Getting Sick (Six Times), as well as Mulholland Drive.
Tuesday, September 30
Words # Utopia-Interview with David Lynch starts at 3 PM at the auditorium, followed by a screening of Dune. Both are free events. At 11 PM, Cinema Centrale will screen Wild at Heart.
Wednesday, October 1
At the Fondazione Banca Del Monte Di Lucca, there will be free screenings of Inland Empire at 4 PM and the Blu-ray version of the Twin Peaks pilot at 9:30 PM. Industrial Symphony No. 1: The Dream of the Broken Hearted will be shown at the auditorium at 7 PM.
Thursday, October 2
People can attend free screenings of The Grandmother (9:30 PM) and Twin Peaks: Fire Walk with Me (10 PM) at the auditorium, and The Straight Story (3 PM) at Cinema Centrale.
Friday, October 3
Screenings of Lost Highway (3 PM) and Eraserhead (11:30 PM) at Cinema Centrale.
The exhibition A Dark Optimism: Lynch's Unsettled Vision is already over, but you can visit David Lynch. Lost Visions, Recaptured Dreams. The Indiscreet Charm of Gaze featuring 60 photographs, lithographs and videos by David Lynch until November 9. Admission is, you guessed it, free!
Find more information over at the Lucca Film Festival website.
Press conference with David Lynch at the Lucca Film Festival 2014 (September 27)
A video of the entire press conference is now available thanks to Di Lucca TV.
Lucca Film Festival Recap Video
Watch a video recap of the Lucca Film Festival's 10th edition.
https://www.youtube.com/watch?v=wXKs7mt3gS4
LFF10 poster featuring a drawing by David Lynch: