UPDATE (2015): David Lynch has since said he won't shoot the new episodes on film, and it appears that has always been his intention.
It's beautiful. I like the world [of Twin Peaks] too. Somehow back then, ideas came and a world was made. It's great that people like that world and want to go back into it.
—David Lynch
David Lynch loves the worldwide excitement for the new series, but don't bother him with any questions about it. He won't be answering them. When asked for a comment on the excitement of the original cast to get involved again next year, the co-writer and director stopped Agenda Magazine right in their footsteps.
I'm not talking about Twin Peaks now. Not until 2016.
—David Lynch
Meanwhile, just let him and Mark Frost work their magic. And to be honest, I'm not too sure he'll be answering those questions in 2016 either.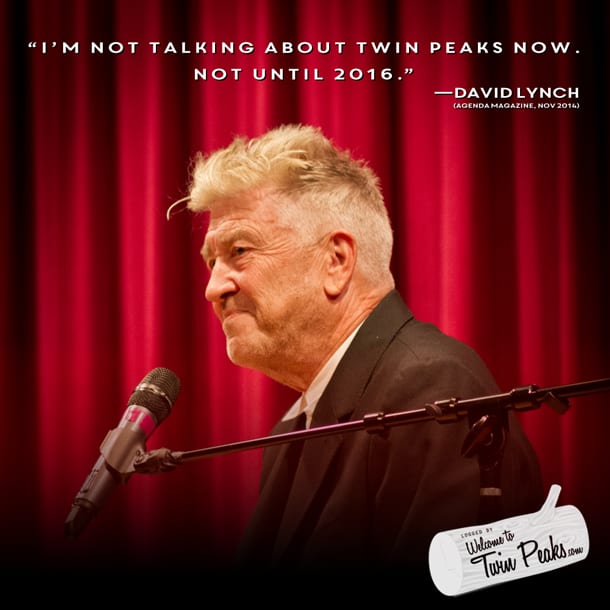 The director did confirm the assumption that the new series will be shot on film just like the original show. Earlier this year, David Lynch admitted he was falling in love with film again. Celluloid, that is, as opposed to digital as used Inland Empire and many of his recent projects. And as it later turned out, his love for the medium was rekindled by The Missing Pieces which he restored for the Twin Peaks Blu-ray, stating recently that he was "overwhelmed by the depth and the beauty that celluloid and film can give." So here's what he did reveal about the new episodes:
So it's not like we're saying now: "Oh boy, we're gonna really do some raunchy things." We're gonna do the same things, but in better quality. And film remains the best quality.
—David Lynch
Even the sound is better now.
[Twin Peaks] is for the biggest screen you can get in your house. I've made television before. You build it for that. At the time, it was network television: the sound wasn't good. Now it's not so bad any more.
—David Lynch
And just in case anyone's worried, he's not afraid of the day he'll run out of ideas.
I'm never gonna run out of ideas.
—David Lynch
So if someone at Showtime is reading this, why not renew the show for 2017 already?