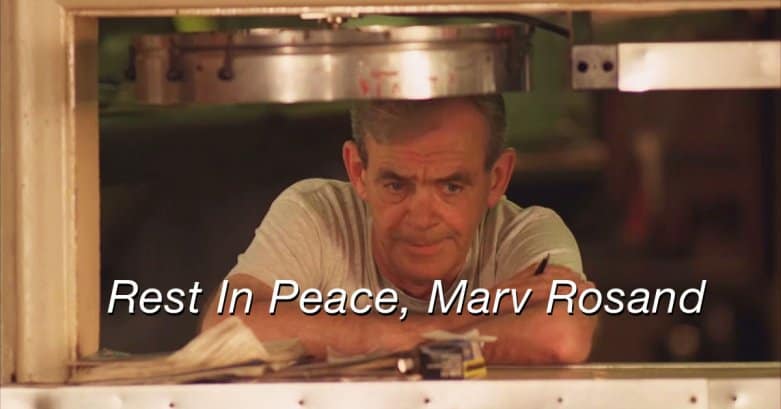 The very sad news has reached Welcome to Twin Peaks that Marvin Rosand passed away some time ago on September 21, 2015, exactly one week before the passing of Catherine E. Coulson. Both actors filmed scenes for the new series of Twin Peaks, which had just started production in and around North Bend, WA.
Marvin "Marv" Rosand initially appeared as the Double R Diner's cook in one of The Missing Pieces, the deleted scenes from Twin Peaks: Fire Walk with Me released on Blu-ray in 2014. Working on the old footage, David Lynch must've been inspired to reestablish Marv's part in the world of Twin Peaks by casting him in the 2017 continuation.
Marvin Rosand passed away shortly after filming the new Twin Peaks. David Lynch made him feel like a king.
The actor's daughter, MJ Smith, reached out to Welcome to Twin Peaks after seeing her dad featured as one of the 37 recurring Twin Peaks characters. She says he enjoyed filming the new series so much, but honoring the non-disclosure agreement, he didn't even tell his family what he was cast for.
He didn't tell any of us what he was filming at the time, we found out after he died. I can't tell you how much it means to me seeing him featured on here.
He was an actor all of his life but usually played smaller parts. But in Twin Peaks, every character is essential.
The crew made him feel so special when he was filming with them this time, and he said David Lynch made him feel like a king.
Marvin Rosand didn't tell his family he was filming for the new Twin Peaks. 'We found out after he died.' #RIP
Although portrayed by Kevin Young in the series, it seems Marvin's character is also named Toad.
I can't wait to see him in an episode. I miss hearing his voice so much. He was an incredible man, loved by many. I'm just sad he didn't live to be able to see it air. He was so full of life, it was a shock to lose him. Thanks again for your kind words and the featured picture of my Dad. That would have made him so very happy.
Thank you, MJ Smith, for sharing these memories with us. Twin Peaks fans can't wait either to see your dad in the Double R Diner next year. Meanwhile, we can all enjoy the three videos below in honor of "Marvelous Marv."
UPDATE: Marv made his first appearance as Toad in Twin Peaks: The Return Part 5 on June 4, 2017.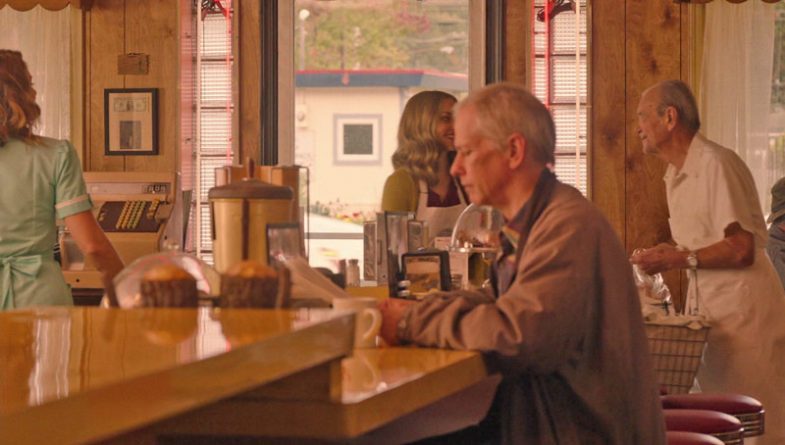 Marvin A. Rosand: Marvelous Marv – a Life Well Lived – 5/6/36 to 9/21/15
https://www.youtube.com/watch?v=aBLIUeb9t8A
The Spiritual Life of Marvin Rosand
Actor Marvin Rosand tosses the script and opens up about how he found God. The journey takes him through time in a cult, alcoholism, broken relationships, and finally restoration.
Marvin Rosand in "The Return" by Jeremy Mackie
'The Return' is a modern re-working of "the Open Window", a short story by the macabre Edwardian writer H.H. Munro. It's a SIFF-sponsored short film made under tight restrictions in the spring of 2012. Beside premiering at the Seattle International Film Festival, the film also played the Austin Film Festival, and was awarded an Emerging Cinematographer Award from the ICG.
When a techie college grad gets a job with the maintenance crew of the Seattle Center, they endeavor to orient him to the job and it's slightly spooky history.