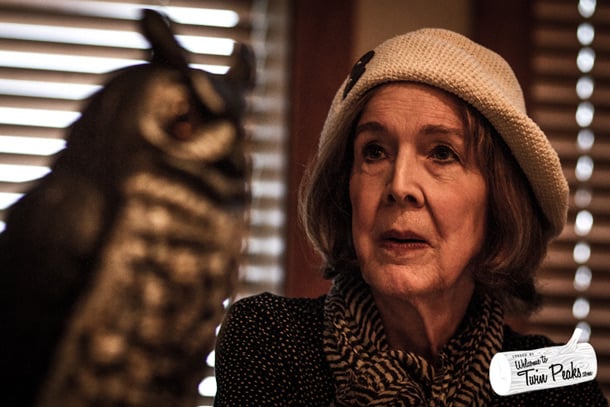 It is with great sadness that I report the passing of Catherine E. Coulson. The stage, television and movie actress was best known and loved by all Twin Peaks fans for her role as the enigmatic Log Lady, but as an assistant director on Eraserhead, she has been part of David Lynch's surreal cinematic universe for four decades. The heartbreaking news reached Welcome to Twin Peaks via Jennifer Lynch, who shared the following message on Facebook:
Very sad to hear that Catherine E. Coulson passed away today. That was one hell of a spectacular woman. I'm grateful to have been a part of her life.
An official press issued by the Oregon Shakespeare Festival, her artistic home for 22 seasons, confirms that she has passed away at her home on the morning of September 28 after a battle with cancer.
In November 2014, Catherine E. Coulson personally confirmed she was set to appear in the new episodes of Twin Peaks that went into production this month, but it is unknown whether any scenes with her have already been filmed. Last year, well before the return of Twin Peaks was announced, Catherine reprised her iconic role in a music video for Pretty Little Demons (now: Regrettes).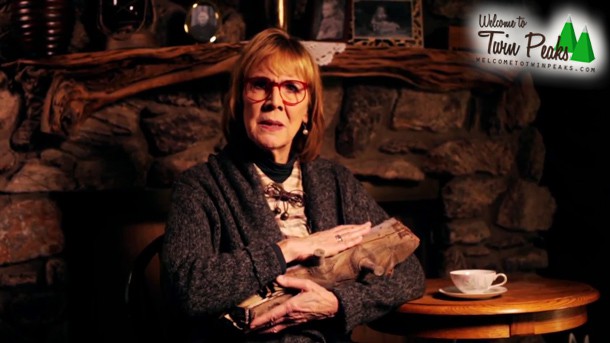 My thoughts are with everyone touched by Catherine's death.
This post will be updated with messages from fans and friends. In honor of the passing of the Log Lady, please feel free to share your own thoughts and tributes.
?? #twinpeaks

— Mark Frost (@mfrost11) September 29, 2015
We love you #CatherineCoulson #LogLady4ever http://t.co/FOU91sa94f pic.twitter.com/dpkejmgTTn

— Mädchen Amick (@madchenamick) September 29, 2015
https://twitter.com/HarleyPeyton/status/648664849115820032
I had fun with her not long ago at USC twin peaks night Am so sorry to lose this adorable human being https://t.co/fxARAxYnuC

— Peggy Lipton (@mspeggylipton) September 29, 2015
My dear friend is gone but her kindness and generosity will be with us forever. https://t.co/89nXIn1gtJ

— Charlotte Stewart (@RealCharStewart) September 29, 2015
So sad to hear of the passing of our beloved #CatherineCoulson Honored to have worked with her. #LogLady4ever ?? https://t.co/EyA798yBRJ

— Robyn Lively (@RobynLively) September 29, 2015