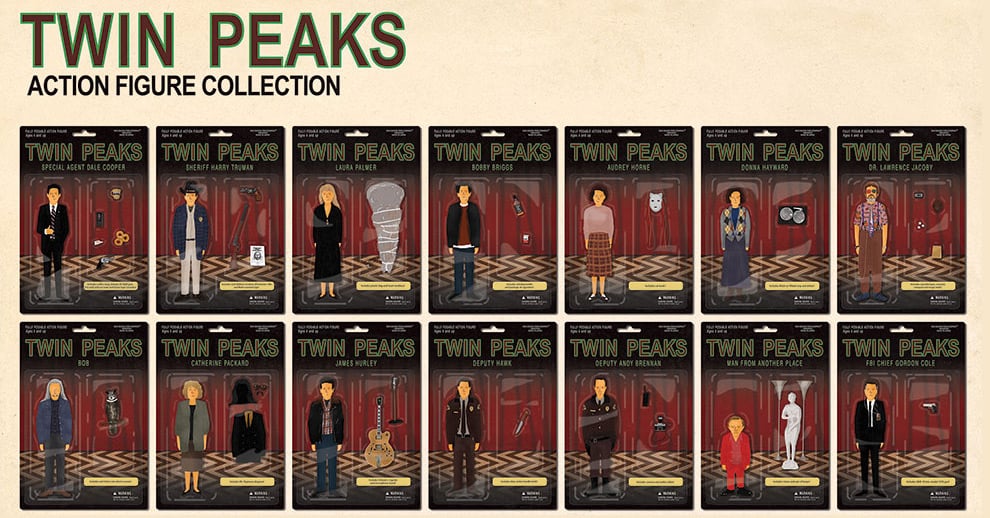 Where were these in 1990? I would've happily traded my entire G.I. Joe collection for these Twin Peaks Action Figures!
UPDATE (2017): Official Twin Peaks Action Figures are here!
For his contribution to the In Dreams David Lynch exhibition at Spoke Art, illustrator Max Dalton recreated 42 Twin Peaks characters as mock-up action figures, packaged together with fitting accessories. For instance, Pete Martell comes with fishing gear and a percolator (don't get them mixed up!), Windom Earle sports assorted disguises, and Killer BOB includes an owl that is not what it seems.
It's not the first time someone turns Twin Peaks characters into action figures (check Dale Cooper and The Log), but this is definitely the largest and most creative collection! You can tell the artist is a huge fan, as he's got the accessories down to the smallest detail!
Max sent us 13 close-ups from his Twin Peaks action figure set including five exclusive ones. If you want a more detailed look at the complete poster, you can head over to the In Dreams exhibition at Spoke Art before March 29th 2014 or purchase a limited edition, hand numbered 18″ x 24″ print.
So tell me, how bad do you want these to be real?
Twin Peaks Action Figure Collection by Max Dalton