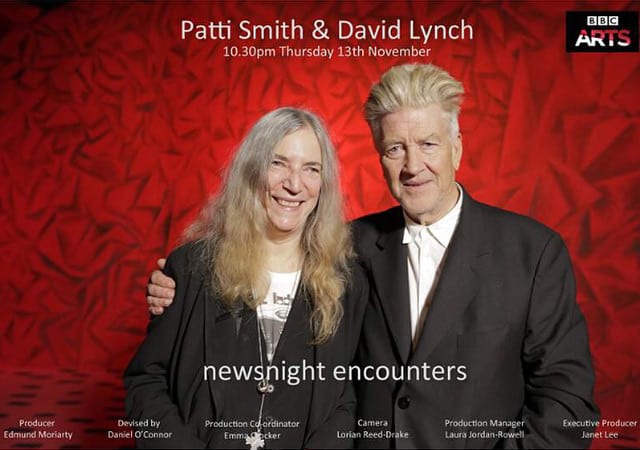 In last night's newsnight episode (13 Nov 2014) on BBC Two, Patti Smith and David Lynch have a 9-minute conversation about ideas, the severed ear in Blue Velvet, lawns and Pussy Riot. The encounter takes place inside Guillermo Kuitca's Les Habitants, a living room inspired by David Lynch's recreation of one of his own paintings over at Fondation Cartier pour l'Art Contemporain, where both artists have exhibited.
They also talk Twin Peaks for a bit. Turns out Patti Smith is a big fan, and she tells David Lynch what we'd all want to tell him: that it was a gift to everyone. It's the first time we hear the director talk about Twin Peaks since the new series was announced last month. Because the video below is not available worldwide, here's a transcription of that part of the conversation:
Patti Smith: Did you have any idea when you were creating Twin Peaks how this would tap into the public consciousness?
David Lynch: No idea. But the number one thing is do to what you believe in, and do it the best you can. And then you see how it goes in the world.
Patti Smith: I watched that, I felt like I was reconnected with the world, with art. It was a gift, really, to everyone.
David Lynch: Fantastic, Patti. […] Twin Peaks is a world and I love that world. It's something that is like a magnet to go back in there.
Patti Smith: Well, we're all gonna be really happy to go in with you, David.
David Lynch: Bless you, Patti.
Patti Smith meets David Lynch on Newsnight
"What came from [Bobby Vinton's version of Blue Velvet] at first was… red lips at night in a car and green lawns with some dew at night. And the next thing that came was a severed ear in the grass."
—David Lynch
The entire newsnight episode can be rewatched for the next 29 days through the BBC iPlayer. Unfortunately, it's country-restricted to the United Kingdom only.
UPDATE: Here's a video of the entire conversation provided by the BBC.
Thanks to Adam Batty for the tip!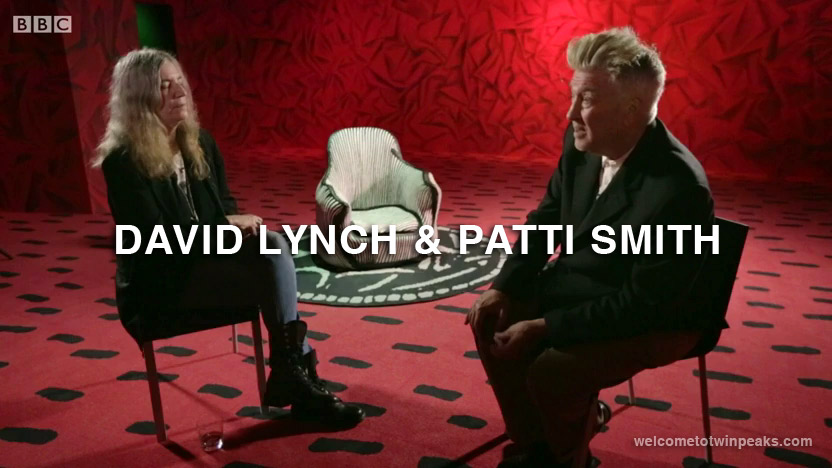 BONUS: David Lynch and Patti Smith – Bah Bah Black Sheep (E-Card)
Have you seen this collaboration between David Lynch and Patti Smith from 2012?