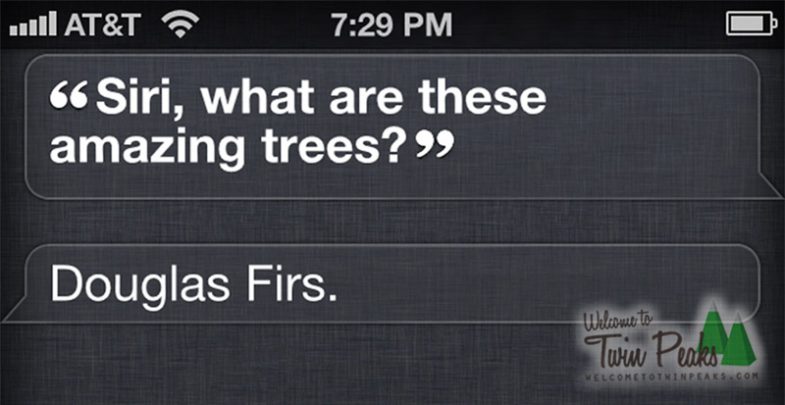 After receiving accolades for The Ballad of Maddy Ferguson from last year's special guests Mädchen Amick and Charlotte Stewart, musical comedian Laurence Owen returned to the Twin Peaks UK Festival last weekend with a brand new comedy folk song about the show and its planned return to television in 2016.
In 21st Century Twin Peaks, the Londoner describes the possibility of our favorite town and its residents —like the rest of the U.S.— having evolved into the Instagram and Buzzfeed age, with lyrical nods to big corporations like Starbucks and Apple, and references to pop culture phenomena such as Lana Del Rey and even swipe-to-like dating app Tinder. In this cringeworthy scenario for Twin Peaks 2016, Dale Cooper appears to have ditched his trusty tape recorder for an iPhone with Skype (let's hope he's got at least a Diane iPhone case), the bored Sheriff's Department is heavily into World of Warcraft while Lucy Moran is completing a quiz on Buzzfeed and somehow, Harold Smith is back from the dead.
You know, that last thing could actually happen in a continuation of Twin Peaks. All the rest, as Laurence continues his song, is "dodgy" and unlikely to be what we'll see on Showtime in a year or two. The singer concludes by placing all his trust in the hands David Lynch and Mark Frost who are writing the new episodes "as we speak".
[Tweet "Dale Cooper ditched his trusty tape recorder for an iPhone and Lucy is completing a Buzzfeed quiz."]
21st Century Twin Peaks
A Presence In The Woods
Laurence has written another new Lynchian song this year, an instrumental mood piece called A Presence In These Woods:
All of Laurence's songs written for the Twin Peaks UK Festival are now bundled in The David Lynch E.P. which is available on Bandcamp. If you like 21st Century Twin Peaks, listen to The Ballad of Maddy Ferguson and The David Lynch Guide to Coffee too.
21st Century Twin Peaks (Lyrics)
(Music and lyrics by Laurence Owen)
Laura Palmer floats ashore wrapped up in Bags For Life
So Agent Cooper hits the road while chatting to Diane on Skype
He stops half way for a bite to eat from a roadside catering van
He takes a cheeky little photo of a cherry pie and pops it up on Instagram
He knocks a mochaccino back to quench his caffeine thirst
He says "Siri what are these amazing trees?" and Siri says "Douglas Firs"
He knows that he's got work to do and he really should be making tracks
But not before he gets a new high score on his Rock Throwing iPhone app.
Meanwhile Truman, Andy and Hawk are in the middle of a Warcraft raid
Not a lot goes on in this little old town and none of them are getting laid
Now they get their donuts on the internet, there's not much for Lucy to do
Just the Buzzfeed quiz "which Invitation To Love character are you?"
The kids hang out in a vintage diner that's owned by a corporate chain
They're the kind of kids that would make a point of only doing Fairtrade cocaine
The Polish waitress says "What's your name?" and the girl says "Audrey Horne"
Then she takes the cup and has a good old laugh because the waitress spelt it wrong.
Windom Earle received very good care and now he's in excellent health
And Gordon Cole has a cochlea implant and sounds like everyone else
Harold Smith has a major breakthrough and lives to a ripe old age
And he gives Donna Hayward access to Laura's secret LiveJournal page.
(She liked it cos it's retro)
All the owls have been microchipped so they know there's nothing weird about them
And on the dwindling iTunes music chart, "Just You" gets to number 10.
The Bookhouse singer's been replaced by a skinny jeaned DJ
He only works with mp3s and he's obsessed with Lana Del Rey.
The Meals-On-Wheels group don't approve of the additives in cream corn
And One Eyed Jack is a dating app – swipe left for Benjamin Horne.
You can't fit a fish in the percolator of a Nespresso machine
And everyone goes to the Annual "Invitation To Love" Festival because they've got really good guests this year and everyone's very excited because Showtime is bringing it back in 2016.
Twin Peaks is quite a dreamy and anachronistic town
We love that reddish sepia and we love those greens and browns
And although I'm looking forward to that 21st century touch
I think it's quite important that we don't update too much.
I'm sure that Lynch and Frost are doing wonders as we speak
And I know they'd never make this dodgy version of Twin Peaks
But although I'm sure we all agree this version's not a hit
It's still better than anything we've got here cos the BBC is shit.