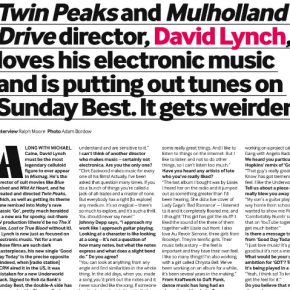 British dance music and club magazine, Mixmag, has recently interviewed David Lynch with regard to the release of Good Day Today. He talks about upcoming projects, recent musical discoveries and his personal favorite remix.
MM: Tell us how "Good Day Today" came about…

David Lynch: I was sitting outside and a tune came to me. I went down to the studio with [musical collaborator] Dean. It took maybe two or three days to finally tweak it. Dean and I play modern blues, so these things come out of jamming and finessing.

MM: Can we expect more from you?

David Lynch: I think there'll be some more electronic things and some more blues-based stuff. I'm also working on a project called Thought Gang with Angelo Badalamenti.
» Read the entire interview in Mixmag's February 2011 issue online (requires Facebook sign-in).