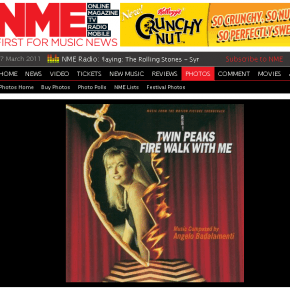 The New Musical Express, better known as the NME, recently named Twin Peaks: Fire Walk With Me the best film soundtrack EVER. In a top 50 published last week on the site of the popular British music magazine, Angelo Badalamenti's soundtrack to the Twin Peaks prequel took the number one spot in the list, ahead of classics like Prince's Purple Rain, Trainspotting, Blade Runner, The Virgin Suicides by AIR, and the brilliant Tarantino movie soundtracks, Reservoir Dogs, Pulp Fiction and Kill Bill. Another David Lynch movie soundtrack, Lost Highway, appears halfway down the list at #24.
As to why the album deserves gold, NME writes: "Combining plangent beauty with a kind of clanking evil jazz, this is one of those endlessly evocative soundtracks that takes up residence in your subconscious and never leaves." They did, however, link to the Twin Peaks theme instead of the motion picture's theme, which leaves me wondering if they really meant the film soundtrack at all. Either way, good choice!
You can listen to both Soundtrack from Twin Peaks and Twin Peaks: Fire Walk With Me straight from this site.
Here's the entire top 50 of best film soundtracks according to NME:
50 – About A Boy
49 – 127 Hours
48 – 500 Days Of Summer
47 – Black Swan
46 – Blackboard Jungle
45 – Dirty Harry
44 – Dancer In The Dark
43 – Easy Rider
42 – Nick & Norah's Infinite Playlist
41 – Blue Valentine
40 – Shaft
39 – Greenberg
38 – There Will Be Blood
37 – Where The Wild Things Are
36 – Kill Bill
35 – Marie Antoinette
34 – Mean Streets
33 – Moon
32 – Pulp Fiction
31 – The Assassination Of Jesse James
30 – Eternal Sunshine Of The Spotless Mind
29 – The Royal Tenenbaums
28 – Rushmore
27 – The Straight Story
26 – Romeo + Juliet
25 – Stand By Me
24 – Lost Highway
23 – Judgement Night
22 – Goodfellas
21 – Empire Records
20 – The Social Network
19 – This Is Spinal Tap
18 – The Graduate
17 – Kids
16 – Pat Garrett & Billy The Kid
15 – The Harder They Come
14 – The Breakfast Club
13 – Superfly
12 – Purple Rain
11 – The Virgin Suicides
10 – The Blues Brothers
9 – Reservoir Dogs
8 – A Clockwork Orange
7 – Blade Runner
6 – The Life Aquatic
5 – Garden State
4 – Natural Born Killers
3 – Trainspotting
2 – Dazed & Confused
1 – Twin Peaks: Fire Walk With Me