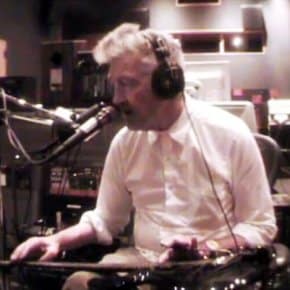 The release date for David Lynch's sophomore album, The Big Dream, is quickly approaching and it seems like Germany (July 12, 2013) is getting it a few days before the rest of the world (UK, Europe: July 15, 2013 and US: July 16, 2013). Pias Germany has released a video montage giving us a glimpse of how self-professed "non-musician" David Lynch approaches music production together with his drummer/engineer "Big" Dean Hurley.
"I started playing guitar only because one was there. I wanted to see what sound effects I could make on it. But in making sound effects with a guitar, a deep thrill went into me down into my soul. I loved working that thing, even though it's not in a traditional way."
—David Lynch.
You can (pre-)order The Big Dream on iTunes  or from Amazon.
A similar but much shorter video has been posted in anticipation of his debut 2011 release, Crazy Clown Time:
And also check out this old video of David Lynch and Moby jamming in Lynch's Asymmetrical Studios in L.A..
If you're in L.A., don't miss the album signing event at Amoeba on July 16th!