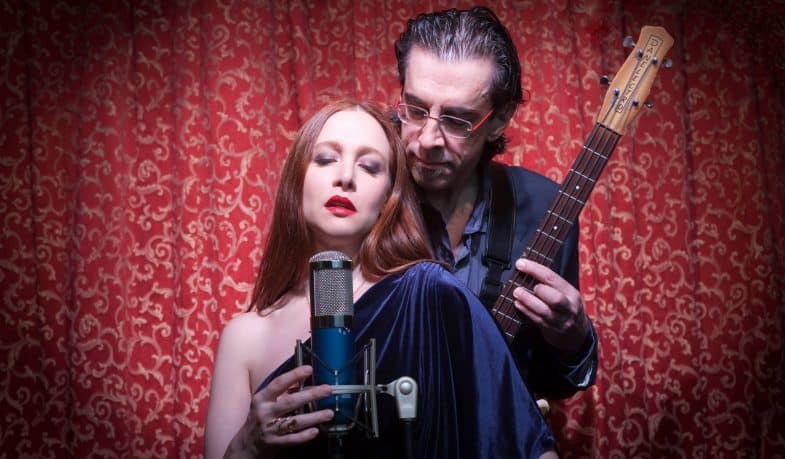 Ghosts of Love: Songs from the Reel World of David Lynch is the debut show of Fox in the Henn House, a New York-based duo consisting of Lauren Fox and Ritt Henn.
David Lynch has been an American film icon for over four decades. His highly stylized, surreal vision of the world, and especially relationships, has inspired so many filmmakers who followed…. Lynch is a master at curating music for his soundtracks, making them as much a part of his films as the films, themselves. He has also written several stunning songs.

Fox in the Henn House has taken these songs from David Lynch's soundtracks, along with dialogue extracted from his screenplays, and arranged them to tell a new story (using Lynch's dark, Film Noir style) of two people, haunted and tortured by love.
The show's setlist includes "Wicked Game" by Chris Isaak (from Wild at Heart), This Mortal Coil's version of "Song to the Siren" by Tim Buckley and Larry Beckett (from Lost Highway), and Julee Cruise's Falling, Mysteries of Love and Questions in a World of Blue by David Lynch and Angelo Badalamenti. And if the setlist doesn't convince you, just read The Wall Street Journal's review of last week's premiere:
This atmospheric presentation, as much a theatrical event as a nightclub set, reduces narrative, both sung and spoken, to its barest essence with the singing of Lauren Fox and the fender bass and vocals of Ritt Henn. The two juxtapose songs heard in the unsettling films of the provocative auteur David Lynch alongside often cryptic dialogue from those same movies. As in "Twin Peaks" or "Lost Highway," the overall result is dark, dark, dark—and hypnotically compelling. There's unexpected levity in their interpretations of cheerful songs like "I've Told Every Little Star" and "This Magic Moment" (as even the 1960 bubblegum hit "Sixteen Reasons"), which have now been thoroughly "Lynched."
And this is how they sound…
Lauren Fox and Ritt Henn – Wicked Game
Lauren Fox and Ritt Henn – In Heaven Everything Is Fine
Fox in the Henn House is performing Ghosts of Love: Songs from the Reel World of David Lynch three more times. Don't miss it!
Dates: Saturday, January 18th, 7 PM, Thursday, January 23rd, 7 PM and Friday, January 24th, 9:30 PM. NEW DATES: Thursday, February 20th, 7 PM and Wednesday, March 12th, 7 PM.
Venue: Stage 72/The Triad, 158 West 72nd Street (btw. Broadway & Columbus Ave), New York, NY 10023
Tickets: $20 (2 drink minimum)