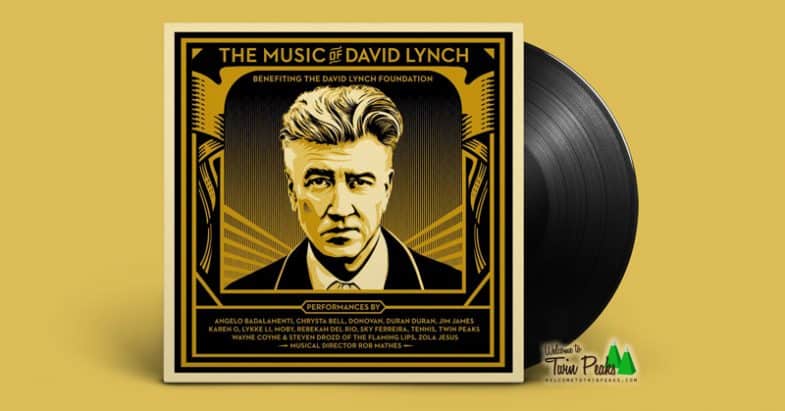 While we wait just a little longer for the highly anticipated vinyl reissues of the Twin Peaks soundtracks, here comes The Music of David Lynch to whet your appetite.
On the evening of April 1, 2015, a stellar lineup of musicians gathered in Downtown L.A. at the Ace Hotel's sold out The Theatre for The Music of David Lynch, a sweeping tribute to the filmmaker in celebration of the David Lynch Foundation's 10th anniversary. It never happened before and it will probably never happen again, but 16 highlights* from that magical night have now been collected on a double vinyl album due for release on April 15, 2016.
Order The Music of David Lynch (2XLP) via Amazon or Barnes & Noble.
UPDATE: A digital download of the album is now available for just $5 via PlayingLynch.com
The Twin Peaks soundtrack is prominently featured with maestro Angelo Badalamenti —joined by original Twin Peaks synthesizer player, Kinny Landrum— performing three of the show's most renowned instrumentals; Laura Palmer's Theme, Dance of the Dream Man and Twin Peaks Theme. There's also Moby's bongo-infused and career-launching techno take on Laura Palmer's Theme, Go, as well as Jim James' impassioned interpretation of Sycamore Trees, which its original composer afterwards praised as "a deeply moving performance!"
https://www.instagram.com/p/06qoWImmZf/
Arguably Mulholland Drive's most memorable moment now captured live on this record, Rebekah Del Rio's a cappella version of Llorando sounds just as breathtaking and heartbreaking as when she performed it for an equally silenced audience in Club Silencio. Sky Ferreira adds composed intensity to Blue Velvet's title song, while Tennis and Twin Peaks (the band) cover Roy Orbison's In Dreams, which of course will forever be associated with Dean Stockwell's scene-stealing mime.
From Wild at Heart, there's Donovan's gracious version of Love Me Tender and an audacious take on Chris Isaak's Wicked Game courtesy of Lykke Li. Zola Jesus adds vocal power to Eraserhead's In Heaven, and hands down the album's most experimental track is Wayne Coyne and Steven Drozd's 10-minute soundscape inspired by Eraserhead and The Elephant Man and fused with the noise machines of Rebecca Baxter.
David Lynch's recent nonfilmic musical collaborations are represented by Chrysta Bell's sensual Swing With Me and Karen O's energetic Pinky's Dream.
From the 15 songs on the double album, Duran Duran's The Chauffeur is the only track that has little to do with David Lynch —it wasn't even part of the Duran Duran: Unstaged show he directed in 2011— but its sinister melody and lyrics certainly don't feel out of place on this release.
The album's closing track is David Lynch himself reciting a poem of unknown origin accompanied by Donovan on guitar. Watch the video of that farewell note below.
Order The Music of David Lynch (2XLP) via Amazon or Barnes & Noble.
Proceeds of this album go to the David Lynch Foundation For Consciousness-Based Education and World Peace (DLF).
*The four songs from the concert's setlist that didn't make the cut are Angelo Badalamenti's Dark Spanish Symphony, Moby's The Perfect Life and Duran Duran's Ordinary World and Hungry Like A Wolf. A recording of the concert will also be available as a companion CD to the limited edition book Beyond the Beyond: Music from the Films of David Lynch.
The Music of David Lynch Tracklist
LP #1
Angelo Badalamenti – Laura Palmer's Theme
Donovan – Love Me Tender
Chrysta Bell – Swing With Me
Tennis and Twin Peaks – In Dreams
Rebekah Del Rio – Llorando
Sky Ferreira – Blue Velvet
Jim James – Sycamore Trees
Karen O – Pinky's Dream
LP #2
Angelo Badalamenti – Dance of The Dream Man
Moby – Go (feat. Mindy Jones)
Duran Duran – The Chauffeur
Lykke Li – Wicked Game
Zola Jesus – In Heaven
Wayne Coyne and Steven Drozd of The Flaming Lips – Soundscape from Eraserhead and The Elephant Man
Angelo Badalamenti – Twin Peaks Theme
David Lynch – A Poem of Unknown Origin
A Poem of Unknown Origin (final track)
May everyone be happy. May everyone be free of disease. May auspiciousness be seen everywhere. May suffering belong to no one. Peace.
The Music of David Lynch Album Cover by Shepard Fairey (Obey Giant)