If you have no idea why Welcome to Twin Peaks is geeking out over reaching its 3-year-old goal of 51,201 likes on Facebook today, March 24, 2014, then you're probably not that big of a Twin Peaks fan. No offense. But for the very few readers in need of a reminder, here's that very reason…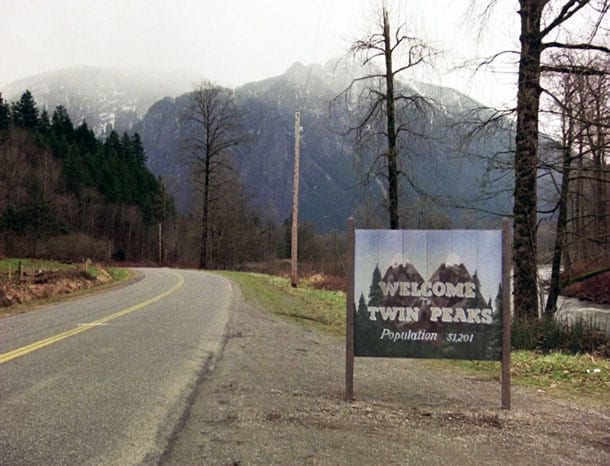 The "Welcome to Twin Peaks" sign reads "Population 51,201" and if you haven't, you should memorize that number as it's the answer to a classic Twin Peaks trivia question. It was supposed to be only a fraction of that, but afraid its viewers wouldn't be able to relate to such a small town, ABC demanded Twin Peaks to be more populated. So David Lynch and Mark Frost appended a "1" at the end.
Right in time to celebrate the milestone of reaching a Facebook audience that equals the population of our favorite town in the Pacific Northwest, I was able to track down the artist who painted the monumental Welcome to Twin Peaks sign 25 years ago and ask him some questions. Before you scroll down to find the answer: NO, he doesn't know its current location. My best guess would be a private residence somewhere in the Hollywood hills where the doorbell reads D. Lynch. UPDATE (2017): Knowing that Steven was hired to recreate the sign for the new Twin Peaks, we can assume the original is either lost or in bad shape.
Who Painted The Welcome To Twin Peaks Sign?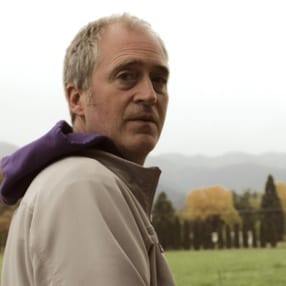 The artist is Steven LaRose, born in Seattle, WA in 1963 and currently living in Talent, OR. Steven received his MFA from the Claremont Graduate University, a BFA from Whitman College and he had solo exhibitions in Seattle, Chicago, Los Angeles, Portland, and Ashland.
But one of Steven's most spectacular bragging rights is having painted the original town sign that ended up in the show's opening credits and pretty much everywhere else, from CD's to calendars, from coffee mugs to crew t-shirts. And thanks to the ongoing Welcome to Twin Peaks photo project, literally everywhere. So let's get on with the interview.
Welcome to Twin Peaks: Do you remember how you landed the gig on Twin Peaks?
Steven LaRose: I had been painting sets for the Seattle Repertory Theater and the Pacific Northwest Ballet and all the little theaters in Seattle when the Twin Peaks crew came to town. It was totally a "who you know" sort of deal.
WTTP: Working in the North Bend and Snoqualmie area, did you spend much time on the set?
SL: As the set painter, I was always a day or two ahead of the film crew. I can't remember if they had an "on-set" painter.
WTTP: Did you meet and talk to any actors or crew… maybe even David Lynch or Mark Frost?
SL: No. I might not have even recognized them. I was just doing my job and going to rock shows at night. Remember, the Seattle music scene was in full-on undiscovered percolation at that time. It was a fantastic time to have a fun job that was putting money in my pocket, but I took the craft for granted.
WTTP: You made the iconic Welcome to Twin Peaks sign that appeared in the opening credits but also on the soundtrack and multiple other Twin Peaks products. Quite a kick, I assume?
SL: It made for a great name-drop for a while. These days however, when I mention it to my students, I receive a blank stare. It was before their time.
WTTP: Do you remember any given instructions, or sources of inspiration? And where there many revisions?
SL: This is my favorite part of the story. I remember somebody saying "You're local aren't you? Can you make a sign real quick? Something kind of Pacific Northwest Cheesy? Don't worry about it too much, we just need it for a drive-by shot. We might not even see it." I think the lead carpenter handed me some charcoal and I sketched out a profile on some sheet good and he cut it out and I painted it in a couple of hours. The free-hand letters took the most time. The fact that it became iconic never really phased me. I had learned not to let my ego get involved with what I painted years before while working on theater sets. But I do tell the story to students because my friend worked for three weeks on a model of the [The Great Northern at the Salish Lodge] for a scene that was cut while my three-hour sign becomes a hero. Unpredictable stuff like that happens all the time and in the end it is more about doing a good/fast job for a salary.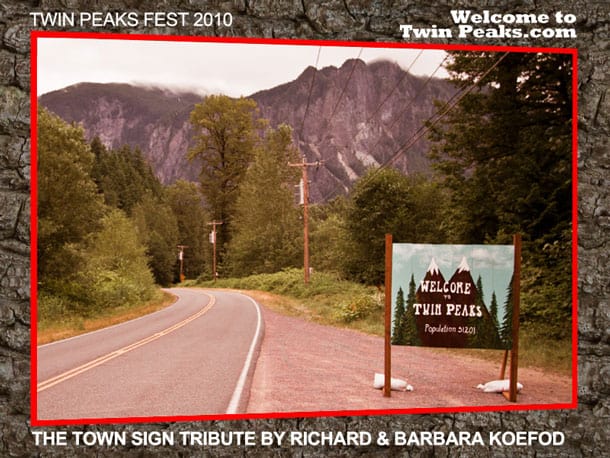 WTTP: What other pieces did you design for the show?
SL: Nothing really stands out. It was so long ago. A lot of the paint work I did was aging and distressing already existing set pieces. I do crack up that on the jukebox in the [Double R Diner] we put 45's from all our friend's bands in the rotation. It was a prop but if anyone bothered to play it, it would have played some early Soundgarden, Nirvana, and Mudhoney.
WTTP: Isn't Nirvana too dreamy? Anything from the show you took home?
SL: I didn't.
WTTP: I read that you also worked on Northern Exposure. Don't tell me you painted the camel mural from the opening credits too?
SL: I think that that was already there. I've got loads of pictures of Holling's bar [The Brick] as I did a bunch of fake bricks and it was my first time doing crackle paint. That was my first gig for close up work too. It was an eye opener as my audience had always been at least ten feet away if not more.
WTTP: Well, thanks for your time and your answers, Steven. One last thing: did you actually have to execute the alteration from "Population 5,120" to "51,201" per request of the network?
SL: I didn't even know that happened!
Check out Steven LaRose Fine Art for more of his work.
UPDATE (2017): Steven was part of the crew on the new series again! And guess what he did?