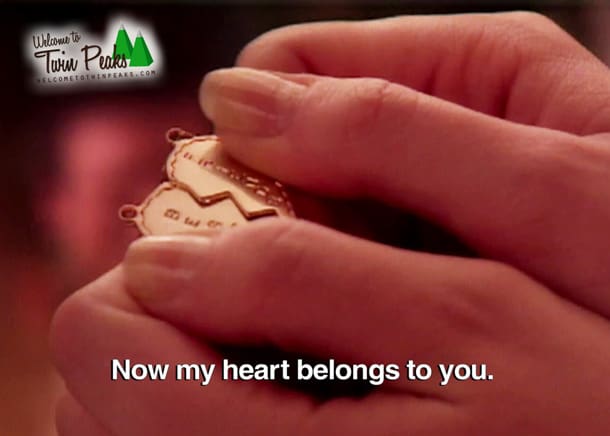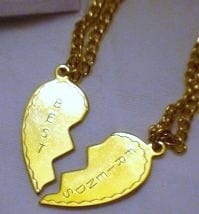 James Hurley's heart necklace gift to Laura Palmer makes a perfect Valentine's Day present for any Twin Peaks fan. The infamous gold necklace, which also appears in Sarah Palmer's vision at the end of the series pilot, costs only $7… and that's for both halves of the "Best Friends" locket. And if you're not going to wear the heart necklace, then at least keep it safe in a coconut.
Do you have a "lover" you want to share your heart with? Feel like leading an entire town on a goose chase with a simple piece of jewelry? Or perhaps you just like to collect. Well this is the item for you! This is a prop replica of the half heart necklaces Laura and James sport in the series. Don't be fooled into paying more elsewhere…they're all the same necklaces! Each set of two comes with both a "Best" and "Friends" necklace.
You can find a very similar gold, heart-shaped "Best Friends" necklace on Amazon.
 There's also an I Love Twin Peaks t-shirt available featuring one of the show's most famous props.
Cooper: Diane, its four-ten in the afternoon at the scene of the crime. Here's something we haven't seen before. A mound of dirt approximately a foot and a half in diameter on top is a gold necklace with a gold heart. Correction, half a gold heart. At the base of the mound of dirt is a torn piece of newsprint written with the words, which appear to be in blood, fire walk with me.

Cooper: (to TRUMAN) Sheriff you and I have got to find who's got the other half of that heart.