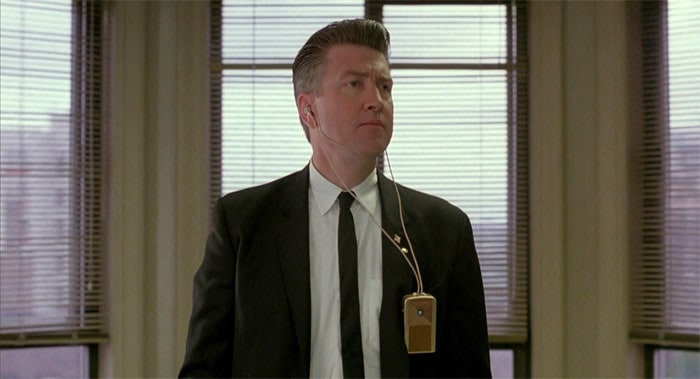 It is widely believed that FBI's Regional Bureau Chief, Gordon Cole, is suffering from "99 percent hearing loss". But what is Gordon Cole's degree of deafness, really? Fascinated by all things Twin Peaks, former fest organizer, Jared Lyon, did a lot of research on Cole's hearing aid prop and found the answer.
"YOU'LL HAVE TO SPEAK UP SHERIFF, HEARING'S GONE, LONG STORY, GOT THESE THINGS CRANKED UP TO THE MAX!"
—Federal Bureau of Investigation Regional Bureau Chief, Gordon Cole.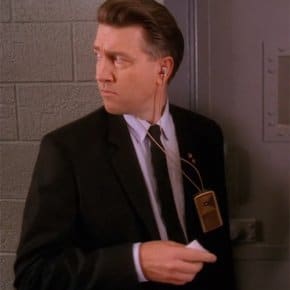 Gordon Cole's Hearing Aid Prop
The device you see on David Lynch in both the series and Twin Peaks: Fire Walk With Me is the Acousticon model A-120, also known as the 'Constellation.' From BernardBecker: "This 1-piece vacuum tube hearing aid features a large decorative microphone grill. The aid measures 2-3/8 x 4 x 7/8 inches, and has a combination on/off and volume control wheel on the case."
Model A-120 was used for stage 1 and 2 deafness, implicating that Gordon Cole was only "moderately deaf" at most. Was he exploiting his disorder to hit on miracle workers cute waitresses? 😉
Originally from circa 1948, the model a-120 was available in "rich bronze trimmed in gold" or "soft gray trimmed in silver" and came with your choice of aid conduction or bone conduction receivers. Neat feature: you could disguise the microphone as you can see in the photo below. I'm sure Gordon Cole loved that.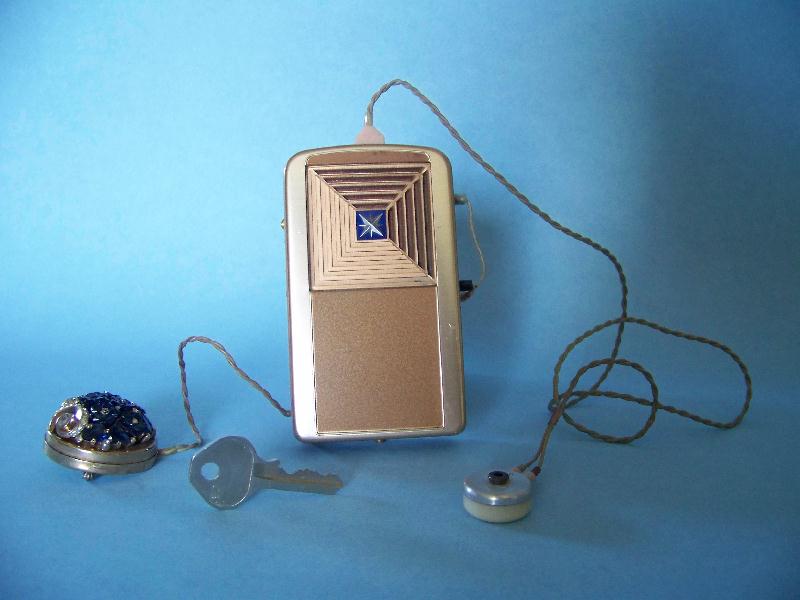 Acousticon model A-120 with concealed "jeweled pin" microphone. Photo by Steve O'Bannon.
Here's a vintage newspaper ad from The News And Courier, Jan 29 (1950). Back in 1950, it was priced $149.50. That would be $1,450 in today's economy!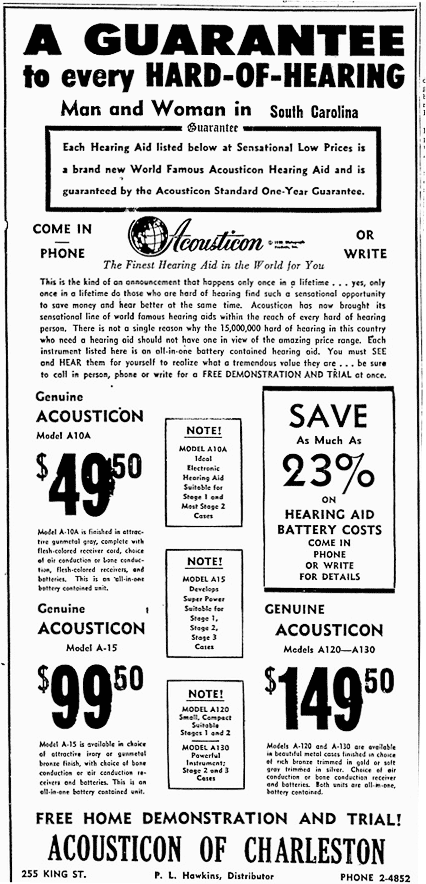 BONUS: Coincidentally, there's a song inspired by all of this called Is Gordon Cole Really Deaf? by Vompleud.
Thanks again to Jared for the extensive research! Discover more Twin Peaks props.