At the end of last year, I tweeted a photo of an eye-catching coat somebody wore on Twin Peaks…
Who wore this coat? #TwinPeaks #trivia pic.twitter.com/vga9ParZGh

— Twin Peaks (@ThatsOurWaldo) December 30, 2013
Today being the particular actress's birthday, it seemed like a good time to finally give you the answer (quite a few of you guessed it right) and tell you how you can actually purchase it, along with other official Twin Peaks collector's items and screen-used costumes.
The answer is, of course, Catherine Martell.
And it's one of the five Twin Peaks lots Piper Laurie is auctioning off at Bonhams in Los Angeles on January 26, 2014 (10 PST). Here's an overview, and if there's anything you'd like to own (at ticket price or not), share it in the comments. Photos of the items are courtesy of Bonhams.
Note: Welcome to Twin Peaks is not affiliated with Bonhams so please don't send any inquiries or bids.
UPDATE: Bonhams is inviting friends and followers of Welcome to Twin Peaks to join them for a talk with Piper Laurie about the Twin Peaks items below. You are welcome on Saturday, January 25th at 2 PM at 7601 W. Sunset Boulevard in Los Angeles, CA. Just tell them you found out about the event through Welcome to Twin Peaks!
UPDATE #2: Updated the items below with their highest bids, excluding the premium.
Wool blanket coat worn by Piper Laurie on Twin Peaks (SOLD for US $1,800)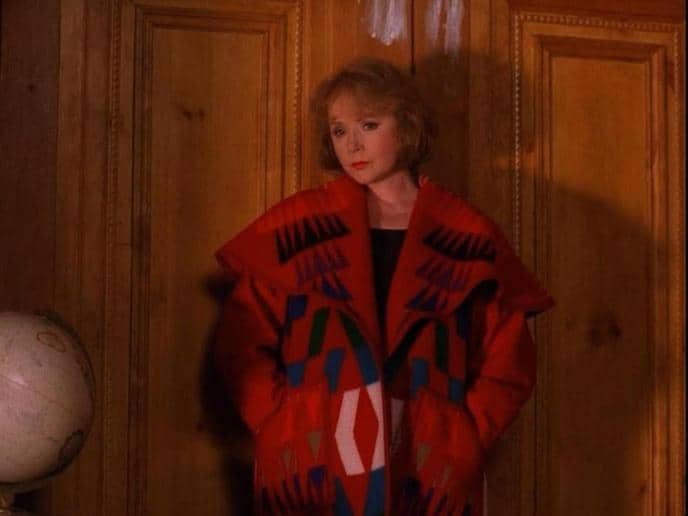 CBS, 1990-91. Multicolored reversible wool blanket coat with a Native American-inspired pattern. Worn by Laurie in episode 20, entitled "Checkmate," when she visits Ben in his office. (link)
Piper Laurie's collection of scripts for Twin Peaks (SOLD for US $5,500)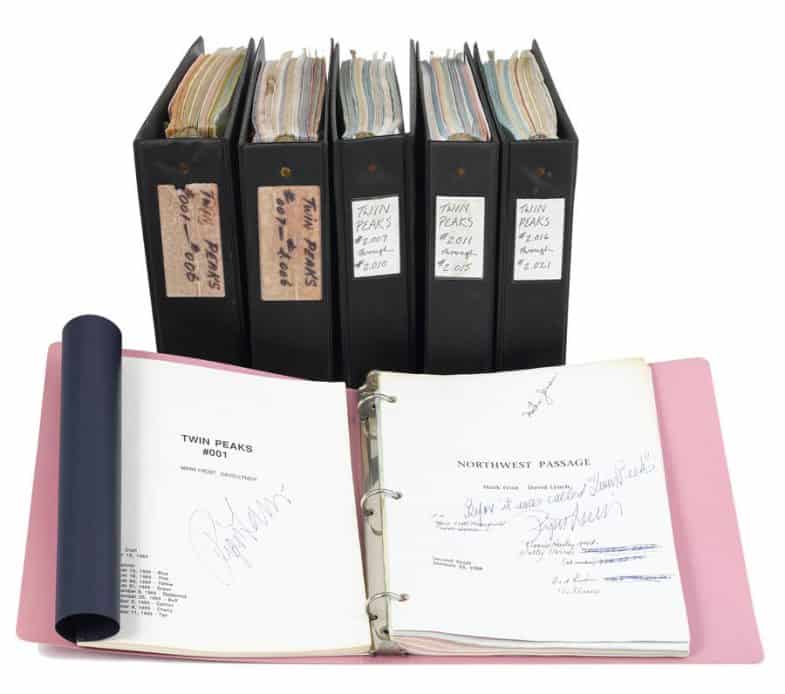 CBS, 1990-91. Scripts for 24 episodes, including the Pilot, "Northwest Passage." All with revision pages, some with shooting schedules, many with underlining/marginalia by Laurie, all but one housed in three-ring binders.
8 1/2 x 11 in. (link)
Silk shirt worn by Piper Laurie as Mr. Tojamura on Twin Peaks (SOLD for US $650)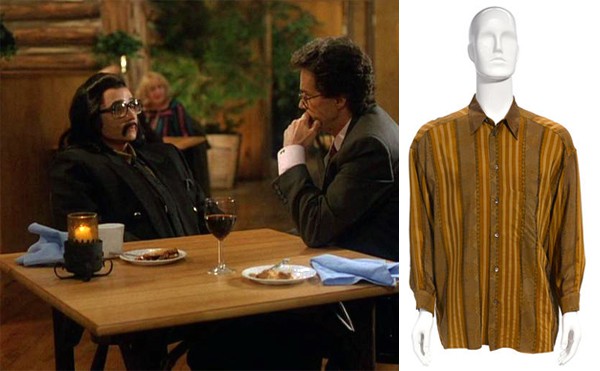 CBS, 1990-91. Brown silk mens dress shirt with alternating tonal stripes and medallion pattern, bearing a Byblos label. Laurie wears this shirt in episode 13 of Twin Peaks as Mr. Tojamura, when she meets with Ben after dinner at the Great Northern.
At the end of the first season of Twin Peaks, Laurie's character, Catherine Martell, was last seen at the sawmill fire. Creator David Lynch called Laurie before the second season started shooting and asked her about taking on a new role. "'You will return in some sort of disguise, as a man, and you'll spy on the town and create trouble for everyone–your husband, your lover, everyone" (Laurie, Piper, Learning to Live Out Loud, NY: Crown, 2011, p. 300). Lynch's plan required Laurie to commit to total secrecy, going to the set each day in full makeup and assuming the identity of Fumio Yamiguchi, a renowned Japanese actor who had long worked with Akira Kurosawa and had come to the U.S. to make a guest appearance on Twin Peaks.
Size 52 (link)
Piper Laurie's Twin Peaks cast t-shirt and jacket (SOLD for US $200)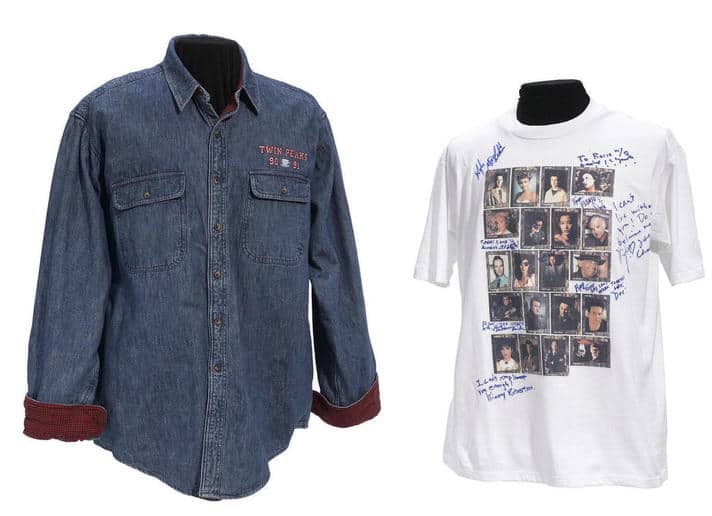 T-shirt featuring images of the cast members, inscribed and/or signed by Kyle MacLachlan (Agent Cooper), Kimmy Robertson (Lucy Moran), Michael Horse (Deputy Hawk), Jack Nance (Pete Martell), Catherine Coulson ("the Log Lady"), Ray Wise (Leland Palmer), Lara Flynn Boyle (Donna Hayward), Harry Goaz (Deputy Andy Brennan), Al Strobel (Philip Michael Gerard) and series creators David Lynch and Mark Frost. Together with an L.L. Bean denim jacket embroidered on the left breast, "Twin Peaks / '90 '91."
Both: Extra large (link)
Blouse worn by Piper Laurie on Twin Peaks (SOLD for US $300)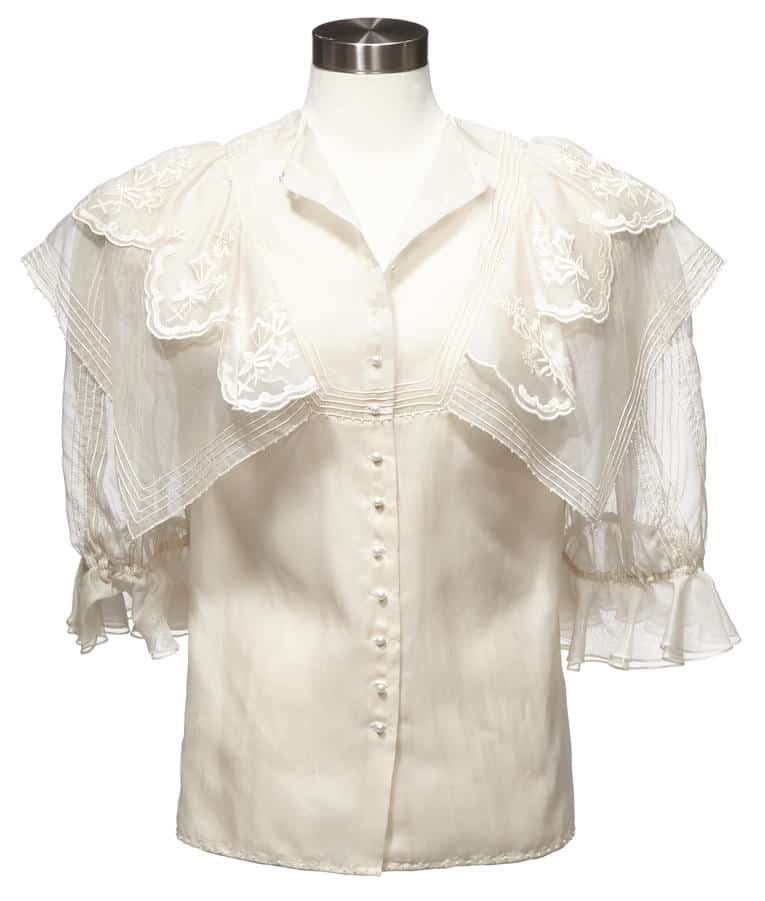 CBS, 1990-91. Cream silk embroidered blouse with two-tiered collar, ruffled sleeves, and faux-pearl buttons. Worn by Laurie on episode 19 of the show ("The Black Widow"), while she is having dinner with Pete. (link)