In what's less likely to be filed under Lynchian Weird but rather Google Image Search Hit-And-Run, the wanted posters for Ukraine's ousted President Viktor Yanukovych that went up all over his country when he fled it last month, were based on a something very familiar to Twin Peaks fans…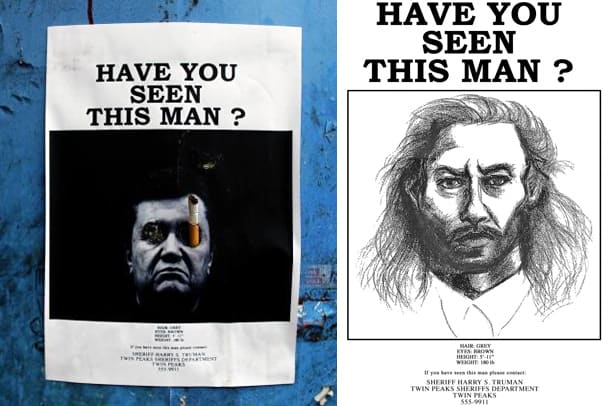 Or maybe this categorizes under a third category: Political Poster Designers Who Are Secretly Twin Peaks Fans.
The Ukrainian creator even left the original wording from the poster prop replica intact, making it a job for Sheriff Harry S. Truman at the Twin Peaks Sheriff's Department (call 555-9911) to find and arrest the then fugitive president! And while Yanukovych has reappeared, Killer BOB is still wanted since 1989.
Thanks to Tom Huddleston for pointing this out to Welcome to Twin Peaks. He wrote in a message: "Has anyone else noticed that the Yanukovych posters up all over Ukraine have used the outline and font from the Bob posters in Twin Peaks? I don't know if it's incredibly cool or incredibly creepy."
Oh yeah, if you're interested, there's a t-shirt available with part of the "Have you seen this man?" poster print.